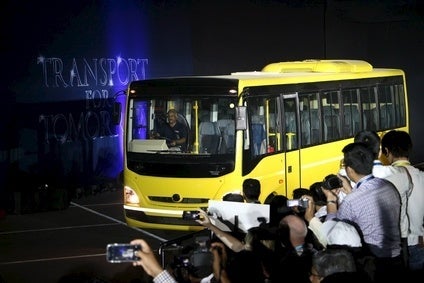 Less than three years after launching the BharatBenz brand in India, Daimler Trucks and Buses is opening a new bus plant at its Chennai site. The company also announced new bus and heavy duty truck models.
BharatBenz truck sales in India rose 63% year on year in the first quarter of 2015 and over 20,000 are now on local roads.
"We see enormous potential for growth in the Indian market. We expect the volume of the Indian market for buses weighing over eight tons to more than double by the year 2020," said Daimler Buses head Hartmut Schick. "Our two brand strategy allows us to offer our customers in the region the right products and services for them."
The front-engine BharatBenz buses meet the requirements of the Indian volume market in school, staff, and tourist segments. British manufacturer Wrightbus fits light aluminium bodies to chassis at the Daimler plant.
In future, Daimler will produce premium segment Mercedes-Benz rear engine buses, used mainly for longer coach trips, in Chennai.
Both front and rear engine buses will be available with a gross vehicle weight rating of nine and over 16 tons when they go on sale in autumn 2015. Sixteen ton models will be available from next year. Sales are through wholly owned Daimler subsidiary Daimler India Commercial Vehicles (DICV) which is constantly expanding its network of dealers and service providers.
Customers in India have a single source of repairs, maintenance and aftersales.
Daimler is spending about EUR50mto expand the Indian bus business. The factory, which covers a total area of 113,000 sq m, is initially set up for 1,500 vehicles a year but coule be expanded for 4,000. Once production has been ramped up, Daimler Buses will employ about 300 in India.
With buses on stream, the Chennai plant will be the first Daimler Trucks factory to produce trucks, buses and engines for three brands: BharatBenz, FUSO and Mercedes-Benz.
New 3143 truck for important segment
DICV is adding the BharatBenz 3143 heavy duty truck to its range. It's for mining applications and construction sites and made its international debut at the IAA Commercial Vehicles show last year. With a gross vehicle weight rating of 48 tons and four axle configuration, the truck has been designed for use in mines in deep and steep exploration sites.
Daimler said the mining segment is particularly important because India boasts a wealth of natural resources and extracts raw materials such as iron ore, anthracite and many different minerals. The 430hp 3143 is claimed to be "the strongest local truck by far for the Indian market" and the first produced in India for the segment.
The intelligent platform strategy development in less than three years. Engine is the proven OM 457 unit used elsewhere in Asia, Europe and North and South America.
Exports
The Indian company, which operates under the umbrella of Daimler Trucks Asia, is also using # new vehicles to expand exports from India. FUSO trucks for the growth markets of Asia, Africa and South America have come off the line in Chennai since May 2013. The Middle East and other markets in Latin America are to be added this year.
Daimler Buses also exports bus chassis from India to Egypt. Because the chassis are technically similar to those of the medium-duty BharatBenz truck, exports started even before the bus plant opened.
"Opening another production facility and introducing a second wave of products in such a short time is another testimony for the strength of our Indian operations. And in combination with our worldwide FUSO network, this makes the recipe for sustainable growth at Daimler Trucks Asia," said Marc Llistosella, head of Daimler Trucks Asia.