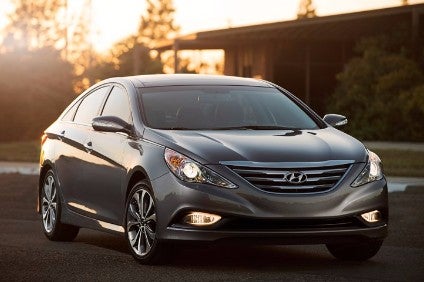 Hyundai Motor America is to recall close to 1m cars to check potentially incorrectly installed seat belts supplied by what is now the combined ZF-TRW. This appears to be a vehicle assembly issue rather than faulty components.
According to an NHTSA bulletin, 977,778 US and Korean-built cars are affected. They are:
Model year 2011 to 2014 Sonata sedans produced at Hyundai Motor Manufacturing Alabama from 11 December, 2009 to 29 May, 2014
2011 to 2015 Sonata Hybrid sedans produced by Hyundai Motor Company in South Korea between 2 December, 2010 and 9 January, 2015
The NHTSA said: "The front seat belt assembly… incorporates a seat belt anchor pretensioner fastened to the vehicle's inner sill structure. During vehicle assembly, the anchor pretensioner is fastened to the sill prior to being connected to the seat belt linkage. If, during vehicle assembly, the connector does not fully latch when the linkage is pressed onto the connector, the seat belt can detach from the anchor pretensioner.
"Hyundai and the seat belt supplier continue to investigate this issue."
Owners will be notified of the recall during April and May.
Dealers will "verify the connection between the seat belt linkage and the anchor pretensioner's cable connector for both front seat belts", the NHTSA said.
The Sonata in question has since been replaced by a redesigned model line.