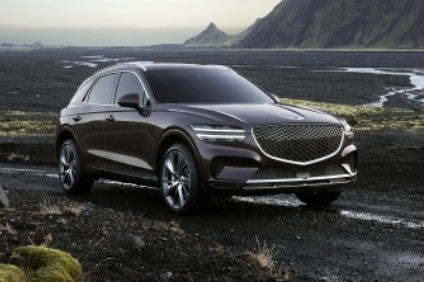 Hyundai Motor unveiled the new GV70 model under its Genesis brand in South Korea on Tuesday, as it bids to strengthen its sales in the upmarket SUV segment.
The new mid sized GV70 is scheduled to be launched locally in January 2021, slotting in beneath the larger GV80 model. It will be available with a choice of 2.5- and 3.5-litre turbocharged petrol engines and a 2.2-litre diesel, with prices ranging between KRW49m and KRW75m (US$45,300 and $69,300).
The new SUV model will be fitted with eight air bags and other advanced safety features including forward collision avoidance assist, intelligent speed limit assist, blind spot collision avoidance assist, driver attention warning, forward attention warning and advanced rear occupant alert systems.
The automaker will roll out the model internationally throughout year, including the US which is expected to be one of its main export markets.
Hyundai vice president Ina Lee confirmed "the company will decide on individual GV70 launch schedules for each overseas market next year, depending on local demand and coronavirus conditions".