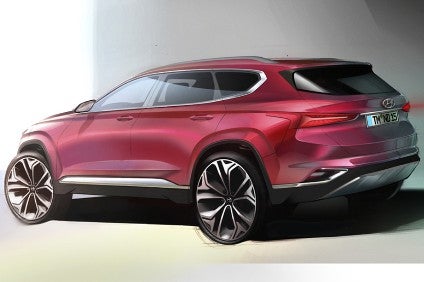 Hyundai Motor has continued its drip feed of redesigned Santa Fe SUV information with more detailed renderings than previously released.
It promises, according to the latest statement: "a luxurious and striking design based on its robust, stylish and voluminous composition, which reflects Hyundai's new SUV design identity".
The model will introduce a large 'cascading' grille with separate headlights with divided daytime running lights (DRLs) and main lamps.
The rear section includes "unique tail lamps", dual mufflers and "a voluminous bumper design".
This is the fourth generation of a model line launched in 2001.
Despite the likes of Nissan already offering the feature in the US, Hyundai claims "industry-first" for it rear occupant alert which monitors the rear seats to detect passengers and alerts the driver when leaving the car. This follows a number of well publicised cases in the US where children have died of heatstroke when left in parked cars with inadequate ventilation. One such driver was jailed after claiming he had forgotten about a baby left in a vehicle all day.
Hyundai said the rear cross-traffic collision warning system now includes automated braking to avoid the risk of collision when reversing out of narrow areas with limited visibility. It warns the driver and applies the brakes automatically.
The new Santa Fe will make its public debut at the Geneva show in March after a recent media reveal in South Korea.
It uses the UM platform introduced under the Kia Sedona/Carnival in 2014, and its styling is similar to the Kona, especially at the front.
A long wheelbase derivative will have seating capacity for eight to compete with the US made Toyota Highlander and Honda Pilot in North America.
In the US, just-auto expects, it will have a new model name because US buyers often do not realise the Santa Fe Sport is a smaller model than the Santa Fe.