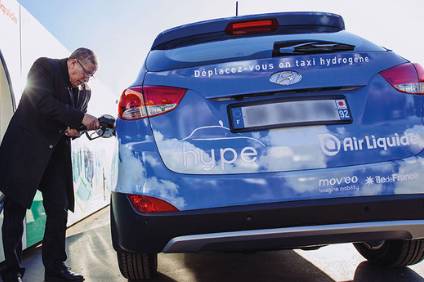 As part of its hydrogen push, Hyundai Motor has signed a memorandum with French energy firms to expand the sale of hydrogen fuel cell vehicles.
Under the agreement, Hyundai will partner with Air Liquide SA and Engie to promote the use of FCEVs and hydrogen refilling stations across France.
According to the Korea Herald, the agreement came after Hyundai announced a plan to export 5,000 FCEVs to France by 2025.
Air Liquide has also announced the installation of four new hydrogen stations for mobility in Korea as well as a project to build two new stations in Paris region.
Today, there are about 300 hydrogen electric vehicles in France, including 100 hype taxis in Paris (Hyundai ix35 and Toyota Mirai). France has around twenty stations, nearly 50% of which are designed and installed by Air Liquide, whether for light vehicles or commercial vehicles such as forklifts for logistics platforms.
In Korea, the government recently announced its intention to accelerate the development of the hydrogen sector in mobility, and plans to invest around 2 billion euros. The plan aims to encourage the creation of public-private partnerships with a target of 310 stations and 16,000 hydrogen-powered vehicles across the country by 2022.
Benoît Potier, Chairman and Chief Executive Officer of Air Liquide, said: "Hydrogen will play a major role in energy transition. [South Korea] President Moon Jae-In's visit to our station in Paris is a strong symbol that illustrates Korea's commitment to the development of the hydrogen sector. Interest and international commitment to this solution is becoming increasingly important, as reflected in the momentum of the Hydrogen Council, which we created in 2017 with 13 members and which now brings together 54 of the world's largest companies."
On Sunday, South Korean President Moon Jae-in visited Paris to attend a test drive event of Nexo. The capital city of France has three Tucson FCEVs operating as taxis.
See also: Hyundai to supply fuel-cell trucks to Swiss market