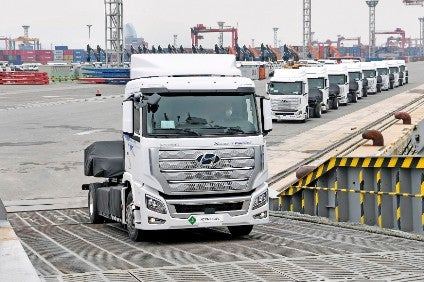 Hyundai Motor this week exported its first hydrogen powered trucks from South Korea, a batch of 10 heavy duty fuel cell electric vehicles (FCEVs) destined for Switzerland.
Having previously exported the ix35 and Nexo fuel-cell electric passenger vehicles, the South Korean automaker is now leading global efforts to apply hydrogen technology to the commercial vehicle sector.
The company has a joint venture in Switzerland with local hydrogen company H2 Energy, called Hyundai Hydrogen Mobility (HMM), which aims to develop market opportunities in Europe for hydrogen powered commercial vehicles.
HMM has an agreement with Hydrospider, a joint venture between H2 Energy, Alpiq and Linde, to jointly operate a hydropower plant in Switzerland for hydrogen generation.
The 10 hydrogen FCEVs are converted heavy-duty Xcient trucks with a power output of 190kW, based on twin 95kW fuel cell stacks, and offer a range of 400km (250 miles) on a single fuel fill. This, the company says, is the optimal balance between the specific requirements of potential commercial fleet customers and available refuelling infrastructure in Switzerland.
The trucks have seven large tanks with a combined storage capacity of just over 32kg of hydrogen and take up to 20 minutes to refuel.
The automaker has also developed a heavy duty tractor unit, the Neptune, with a range of 1,000 km (600 miles) which it first displayed at the North American Commercial Vehicle Show in Atlanta in November 2019.
Hyundai has orders from HMM for 50 hydrogen powered heavy duty trucks this year and 1,600 units by 2025.