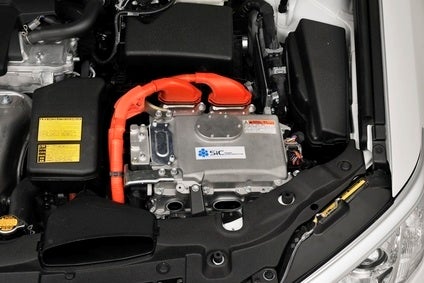 Toyota Motor Corporation chief technology officer Masahiko Maeda has defended the company's emphasis on hybrids rather than EVs with an intriguing comparison.
He said around three HEVs (hybrids) are equivalent to the CO2 reduction effect of one BEV, and the 18.1m HEVs Toyota has sold to date are equivalent to the CO2 reduction effect of introducing to the market about 5.5m BEVs.
"The volume of batteries for HEVs that we have produced so far is the same as that of the batteries installed on about 260,000 BEVs," Maeda told an online briefing today.
"In other words, we can say that the batteries needed for 260,000 BEVs have been used to achieve the CO2 emissions reduction effect of 5.5m BEVs."
But he promised: "In the future, in light of changes in the market, we will also accelerate the introduction of BEVs and PHEVs, leveraging the strengths we have gained through our experience so far. And we will strive to reduce CO2 emissions by increasing the selection of electrified vehicles we offer and having customers in each region choose us so that we can accelerate the dissemination of electrified vehicles.
"The three core technologies that support this full lineup of electrified vehicles are electric motors, batteries, and power control units."
For HEVs, Toyota's focus is on battery power output, or instantaneous power, while, for PHEVs and BEVs, the focus is on capacity or endurance.
"As batteries for HEVs, we have been continuously evolving nickel-metal hydride batteries and lithium-ion batteries by taking advantage of their respective characteristics.
"Our bipolar nickel-metal hydride battery, which was announced this year and is focused on providing instantaneous power, will be used in an increasing number of vehicles.
"For lithium-ion batteries for PHEVs and BEVs, we have been striving to improve both cost and endurance, and we will continue to improve them as we move forward.
"We are developing a further advanced new type of lithium-ion battery for introduction in the second half of the 2020s."
The automaker aims to reduce the costs of batteries by 30% or more by developing materials and structures.
It also wants to reduce power consumption by 30 percent, starting with the bZ4X.
Integrated development of vehicles and batteries should reduce battery cost per vehicle by 50% compared to the bZ4X in the second half of the 2020s.
Toyota will both improve current liquid batteries and commercialise solid state batteries.
Solid state batteries are expected to have higher output because of the fast movement of ions within them.
Toyota would like to take advantage of the favourable properties of solid state batteries by also using them in HEVs but has found short service life was an issue.
It will continue development, mainly of solid electrolyte materials.
"We feel that having identified an issue has brought us one step closer to commercialisation," Maeda said.
"We will establish the needed technologies by conducting a certain amount of in-house production, and we will cooperate and collaborate with suppliers who understand and will put into practice our concept. We will also proceed with discussions with new suppliers in some regions.
"We are building a system with our suppliers that will allow us to incorporate into discussed plans the volume of batteries that we will need in about three years.
"Within the Toyota Group, we are also working to shorten the lead time for the start-up of production and to establish a system that is adaptable to change.
"In development, we will aim to achieve a per vehicle cost of 50% or less compared to now through the integrated development of vehicles and batteries.
Toyota is now assuming it will go beyond the 180GWh worth of batteries currently considered and will prepare 200GWh worth of batteries (or more) if the uptake of BEVs is faster than expected.
Development of a battery supply system and research and development is expected to be approximately JPY1.5 trillion by 2030.