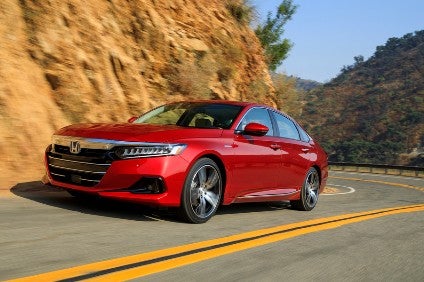 Auto manufacturing operations to combine and merge with auto product development to form a new company in North America
Auto design will become part of American Honda Regional Operations
Auto Field Operations to be streamlined
Honda of South Carolina Mfg. to become part of American Honda Powersports Business Unit
Honda plans to combine all of its automobile manufacturing facilities in the US related to frame, engine, transmission, and related engineering and purchasing operations into one new company, to be named Honda Development & Manufacturing of America (HDMA).
The new company also will integrate the automobile product development operations of Honda R&D Americas (HRA). The unification of Honda's manufacturing operations and merger with auto product development will be effective on 1 April, 2021.
"We are announcing a number of changes to our business operations that continue the journey we began last year, to become a more lean, nimble and unified company in North America," said Shinji Aoyama, chief officer of North American Regional Operations of Honda Motor and president & CEO of American Honda.
"Each change is vital to our ongoing effort to make Honda in America stronger and more responsive to the customer, better able to invest in advanced technology, and prepared to meet future market needs."
With the move of auto product development functions to the new HDMA company, the automobile product design and some market research functions currently part of the HRA Los Angeles Center will be integrated into the Regional Operations of American Honda Motor based in Torrance, Calif.
Honda will unite all auto creation functions into HDMA with a focus on achieving seamless development of new products with improved efficiency and quality, thus positioning its North American operations for the future. These changes will effectively bring all auto development, planning, purchasing, strategy and manufacturing into one company, thus strengthening what the automaker calls a 'one-floor' approach to the product development process.
This includes:
Centralizing key business functions to become more efficient and eliminate redundancies;
Executing new product development with increased speed and accuracy; and
Improving manufacturing characteristics with a focus on quality, cost competitiveness and the ability to deliver vehicles that appeal to customers in a timely manner.
This approach is similar to restructuring that was announced last February by Honda Motor in Japan, including the integration of the automobile development function of Honda R&D and key elements of Honda Engineering. (the production engineering company) into the parent company Honda Motor's Automobile Operations, including production and purchasing operations.
Auto-related Honda companies to be wholly or partially consolidated into HDMA include:
Honda of America Mfg.
Honda Manufacturing of Alabama
Honda Manufacturing of Indiana
Honda Transmission Manufacturing of America
Honda Precision Parts of Georgia
Honda Engineering North America
Honda R&D Americas
Honda Accessory America
Streamlining auto sales and parts & service field operations 
Separately, American Honda announced plans to streamline its auto sales and parts & service field operations "to enable a more agile response to local market needs".
In January 2021, Honda and Acura zone offices will be restructured in order to improve communication between dealers, zone management and national sales and parts & service management.
The change includes four new regional manager positions that have been created to provide oversight of Honda sales, Acura sales and parts, service & technical field operations. The regional managers will become the key link between the company's national and field operations, ensuring better alignment among all staff who call on dealers and pushing decision making authority down to local staff to more quickly address dealer and customer needs.
Continued restructuring of powersports operations
Honda companies in the US responsible for powersports business, including motorcycle, ATV and side by side products, began restructuring earlier this year to unite the functions of sales, manufacturing, product development and purchasing.
Honda of South Carolina Mfg, responsible for powersports manufacturing in the US, will formally become part of the powersports business unit within American Honda.
This follows a similar reorganisation in Japan, in 2019, when the motorcycle operations of Honda Motor and the motorcycle center of Honda R&D were merged into one organisation to strengthen the unity of sales, production, development and purchasing functions.