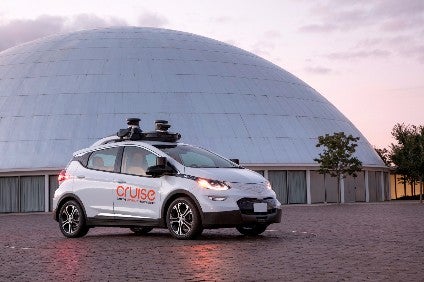 Cruise and General Motors said they had joined forces with Honda to pursue the shared goal of transforming mobility through the large-scale deployment of autonomous vehicle technology.
Honda will work jointly with Cruise and General Motors to fund and develop a purpose-built autonomous vehicle for Cruise that can serve a wide variety of use cases and be manufactured at high volume for global deployment. In addition, Cruise, General Motors and Honda will explore global opportunities for commercial deployment of the Cruise network.
Honda will contribute approximately US$2bn over 12 years to these initiatives, which, together with a $750m equity investment in Cruise, brings its total commitment to the project to $2.75 billion.
In addition to the recently announced SoftBank investments, this transaction brings the post-money valuation of Cruise to $14.6bn.
"This is the logical next step in General Motors and Honda's relationship, given our joint work on electric vehicles, and our close integration with Cruise," said General Motors chairman and CEO Mary Barra.
"Together, we can provide Cruise with the world's best design, engineering and manufacturing expertise, and global reach to establish them as the leader in autonomous vehicle technology while they move to deploy self driving vehicles at scale."
"Honda chose to collaborate with Cruise and General Motors based on their leadership in autonomous and electric vehicle technology and our shared vision of a zero emissions and zero collision world," said Honda EVP and representative director COO Seiji Kuraishi.
"We will complement their strengths through our expertise in space efficiency and design to develop the most desirable and effective shared autonomous vehicle."
"With the backing of General Motors, SoftBank and now Honda, Cruise is deeply resourced to accomplish our mission to safely deploy autonomous technology across the globe," said Cruise CEO Kyle Vogt. "The Honda partnership paves the way for massive scale by bringing a beautiful, efficient, and purpose-built vehicle to our network of shared autonomous vehicles."
Michelle Krebs, executive analyst, Autotrader, said: "The combined forces of General Motors and Honda, already working on fuel cells, with GM's Cruise Automation to build autonomous vehicles marks a significant milestone in moving self driving closer to reality.
"It also demonstrates that global partnerships like these – Detroit, Silicon Valley and Japan – are necessary to take on these expensive ventures that likely will not return a profit in the near term. It also opens the possibility of obtaining financing, as already has been demonstrated with SoftBank's investment, that traditional auto making operations cannot tap."
Brian Moody, executive editor, Autotrader, added: "The future of transportation belongs to today's automakers. All the talk of tech companies stealing transportation is nonsense. Today's automakers have the scale, knowledge and R&D dollars, plus they know how to manage a broad network of suppliers and can work with policy officials to get things done. This Honda/GM partnership holds the potential of two top global brands working together. And let's be honest, the future isn't going to be brand agnostic: The name Honda or Chevrolet will still be important to many."