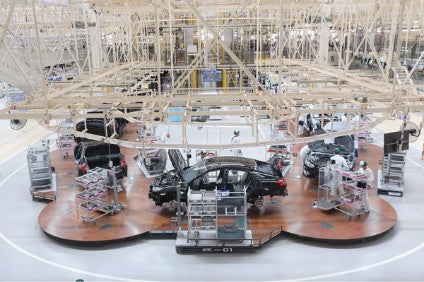 Honda Motor has developed what it claims is the auto industry's first mass production vehicle assembly line with a main line that incorporates a flowing cell production system.
The automaker has named its innovation the ARC (Assembly Revolution Cell) Line and introduced it at its new Prachinburi plant in Thailand which went into operation in March 2016. The plant is part of Honda Automobile (Thailand) (HATC), the company's vehicle production and sales subsidiary in Thailand, and is located within the Rojana Industrial Park in Prachinburi Province.
The "world's first innovative and unique assembly line" is different from a conventional line production system and was developed by incorporating flowing cell production-style production units in the main line, Honda said.
The newly opened Prachinburi plant builds Civic sedans, primarily for Asia-Pacific markets, and has capacity for 60,000 units a year.
In production on a conventional line, each worker takes charge of a single process and installs parts on vehicle bodies flowing on a conveyor. In cell production, on the other hand, one worker takes charge of a broader range of production processes and installs multiple parts.
Four workers board an ARC Unit, a unit of a conveyor that carries one vehicle body and a complete set of parts to be installed to the vehicle body, and assemble the vehicle while moving along the production line together with the vehicle. This system reduces any incidental movements by workers – such as selecting the proper parts for the specifications of the next vehicle body coming down the line and installing them while walking along with the vehicle body. These are not considered essential assembly movements but are inevitable in conventional production processes.
"The ARC Line production achieves a significant improvement in production efficiency through the reduction of such process loss," Honda said.
"Moreover, with ARC Line production, each [worker] takes charge of a broader range of production processes, which makes it possible for [workers] to gain a broader range of production knowledge and skills. This is expected to have a positive effect on the development of proficient [workers] who will be capable of providing feedback from the production team to the development team in the future."
The assembly line at the Prachinburi plant has been building Civic sedans since March 2016 with initial annual output of up to 60,000 units. A complementary parts operation commenced output last September. In May 2014, Honda announced it was delaying the start up of the new plant by up to a year because of the deteriorating market conditions in the country. The 120,000-unit plant, which was expected to cost US$530m, was originally scheduled to come on stream in April 2015.
A number of other Honda models are produced at the older Ayutthaya assembly complex.