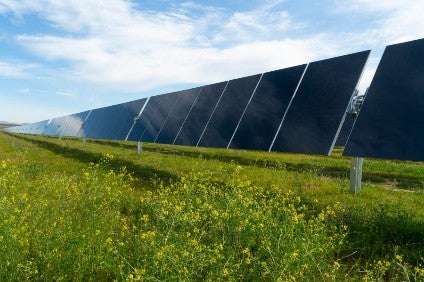 General Motors has announced a new power purchase agreement for a 180 megawatt solar project, the equivalent of about 47,882 US homes' electricity use for one year.
The solar energy will come from a new solar field in Arkansas originally developed by First Solar and will use photovoltaic solar modules. With this agreement, GM has the option to store energy for future use, a first for the company.
This deal marks a major milestone for GM – surpassing 1 gigawatt in renewable energy use, which equates to about 110 million LED. General Motors is currently the 11th largest offtaker of renewable power in the US and the largest offtaker in the manufacturing sector.
This power purchase agreement will supply three GM sites in the midwest: Wentzville Assembly in Missouri and Michigan's Lansing Delta Township Assembly will be fully powered by solar energy and the remaining power will be allocated to Lansing Grand River Assembly.
"GM's investment supports the use of solar technology, innovated and developed by First Solar in the United States, to power factories that form the core of the midwest's industrial resurgence," said Georges Antoun, First Solar's chief commercial officer.
"As GM continues its transition to an all electric, zero emissions future, it is imperative that we also invest in a cleaner grid that can support everything – from our factories to our vehicles," said GM chief sustainability officer Dane Parker. "Investments like these have increased access to renewable power, and with this deal we are exploring the next frontier of renewable energy, which integrate the principles of circularity and energy storage, among others."
Earlier this year, GM announced two other renewable projects totaling 600 MW of solar energy, which are expected to be operational by 2023. General Motors continues to make significant progress in its use of renewable energy to power its operations, combining power purchase agreements, green tariffs and on site renewable energy projects.