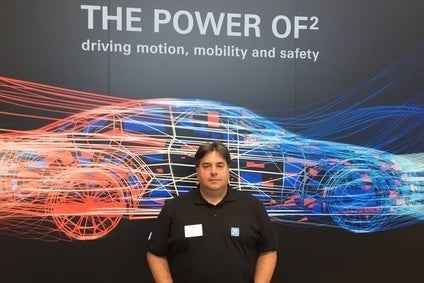 Newly-formed ZF TRW says it will retain the 'affordable safety' value adopted by the US supplier as huge company settles in to its position as the world's third largest component producer.
Ever- growing complexity is leading some to speculate as to how far the consumer will be required to pick up the tab, but ZF TRW is keen to promote the ideals of the former slogan.
"We are continuing that direction of affordable safety – that is where the big market potential [is]," ZF TRW director product planning global electronics, Andy Whydell told just-auto at ADAC's proving ground in Potsdam near Berlin.
"We have a strong position in driver assistance systems and we will continue to build."
The electronics director also noted Euro NCAP ratings were driving safety improvements with around half of all cars sold in Europe for example, featuring five star ratings with automatic braking coming to the fore.
"These are pretty affordable solutions being designed right down to A segment and city-type vehicles," said Whydell. "As volumes increase, the cost of these measures will continue to fall."
Despite the increase in vehicle safety content, Whydell nonetheless noted attention would also focus on crash avoidance as much as as coping with difficult situations
"We are getting to the point where it is increasingly difficult to add more protection for vehicle occupants, post crash," he said. "The next step in road safety will come from crash avoidance.
"One of the things Euro NCAP is working hard to do is if everybody is a five star, how do you tell the difference? Active safety is the next step in that process."
The global electronics director also emphasised increasing public acceptance of safety aids in cars, highlighting former steps in vehicle content which were once thought radical, such as seat belts, airbags and brake technology, but which are now viewed as commonplace.
"This is something the industry has gone through for decades," said Whydell. "Clearly most of the mechanical technology in the car is well proven – really where the innovation is coming is software and electronic integration.
"How can we manage the necessary update process that is as least disruptive for the consumer as possible. Every time you turn your phone on there is some application that needs updating, so people are becoming more familiar with that."