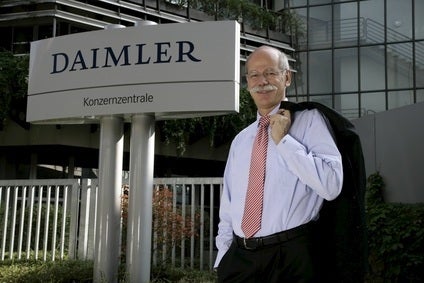 Daimler said on Thursday (22 October) it had set new records for unit sales and revenue in the third quarter of 2015. Revenue rose 13% year on year to EUR37.3bn on sales (also up 13%) of 720,000 cars and commercial vehicles. Sales of 508,400 units set a new quarterly record at Mercedes-Benz Cars.
Group EBIT slipped 2% to EUR3,661m in the third quarter but Q3 2014's result had been boosted by the sale of the stake in Rolls-Royce Power Systems, resulting in a gain of EUR1,006m. Group EBIT from ongoing business increased 31% to EUR3,657m. Net profit was down to to EUR2,415m from EUR2,821m a year ago and earnings per share were EUR2.23 versus EUR2.56.
"We achieved a return on sales of 10% in the automotive business in the third quarter, and proved once again that we are pursuing the right strategy and are progressing with the right products and technologies. The results speak for themselves: Unit sales and revenue are at record levels," said Daimler chairman Dieter Zetsche. "We will do everything to put Daimler into the leading position."
Mercedes-Benz Cars beat last year's result as unit sales rose. The other automotive divisions also increased earnings compared with a year ago. Daimler Financial Services also achieved higher Q3 earnings than last year, due to increased contract volume.
"The implemented efficiency programmes and changes in exchange rates had an additional positive impact on operating profit," Daimler said.
"We continue to grow profitably and are continually developing our business model. We are focusing on the steady expansion and renewal of the model range, innovative technologies and the utilisation of market potential," said finance head Bodo Uebber. "After three quarters of the year, we are well on the way to fulfilling our forecasts for 2015 and to completing this year as another extremely successful year."
Third-quarter Mercedes-Benz Cars unit sales increased 18% to a record 508,400 vehicles. The main growth markets in Western Europe (+19%) were the United Kingdom (+25%), Italy (+28%) and Spain (+38%). In Germany, unit sales increased by 11%. The division also set new records for unit sales in the United States (5% growth) and in China (39%).
Revenue rose 11% to EUR20.7bn and third-quarter EBIT of EUR2,183m was well above the prior-year figure of EUR1,584m. The return on sales was 10.5% and again above target (Q3 2014: 8.5%).