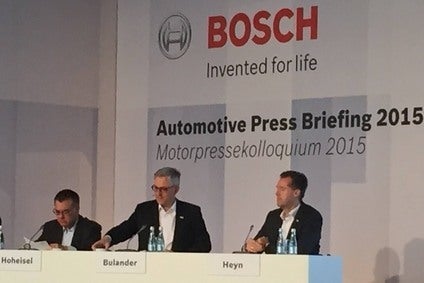 Bosch is estimating gasoline engines for sub-compact cars will beat strict European Union CO2 emission limits of 95g by some margin, with their diesel counterparts going even further.
Addressing the world's media last week at its International Automotive Press Briefing in Germany, Bosch Mobility Solutions chairman, Rolf Bulander said consumers wanted "visible performance" and added value when purchasing cars, but automakers also had to address a tougher CO2 environment.
"We think in the sub-compact category up to 1,200kg…the gasoline engine by 2020 will reach 85g [while] diesel may achieve up to 70g," he noted at Bosch's Boxberg proving ground near Stuttgart.
"In the compact class, the values are 95g and 85g for diesel. The internal combustion engine [ICE] and electric traction are the best of two worlds. In Europe, the plug-in hybrid would be good for daily distances run by the average driver and [for] longer distances, the ICE."
The Mobility Solutions chief noted there was a certain reticence when it came to hydrogen powertrains, with a lack of refuelling points.
"The market is not going to explode, if I may put it like that," he said. "We do work with hydrogen, but for vehicles which are not passenger cars.
"It is our intention to be systems-capable in hydrogen and we will run prototypes next month."
Bulander maintained "electromobility is coming – whatever reservations people may have" and is reflected in the spread of infrastructure as much as by progress in technology.
The supplier estimates by 2025, 15% of all new vehicles will feature an electrified powertrain, although it still sees a bright future for internal combustion engines.
"We are confident we can reduce fuel consumption by a further 10% for diesel engines and by a maximum of 20% for gasoline," added Bulander.
"In combination with electric motors, the combustion engine has yet to reach the peak of its efficiency.
"Bosch has the experience to turn an alternative powertrain into a success story. It's what we did with diesel and it's what we want to achieve with the electric powertrain too."