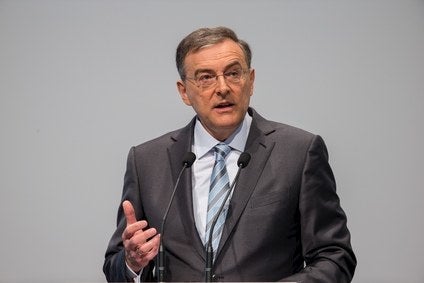 BMW Group sales volume, revenues, profit before financial result and profit before tax all reached new highs in the first three months of 2015.
Group revenues grew 14.7% to EUR20,917m (2014: EUR18,235m). Profit before financial result (EBIT) for the three month period rose by 20.6% to EUR2,521m (2014: EUR2,090m), thanks to strong performances by the Automotive, Motorcycles and Financial Services segments. The EBIT margin for the group was 12.1% (2014: 11.5%). Profit before tax (EBT) improved by 5.1% to EUR2,269m (2014: EUR2,159m). Net profit was up 4% to EUR1,516m (2014: EUR1,458m), 4.0% ahead of the previous year's first quarter.
Automobile sales volume climbed by 8.1% to 526,669 units (2014: 487,024 units), a new record for the period.
"We have got off to a good start in 2015", said chairman Norbert Reithofer.
Automotive segment
Automotive segment revenues increased by 14.1% in the first quarter to EUR18,893m (2014: EUR16,559m) due to the increase in sales volume and changes in the fixed exchange rates. EBIT climbed by 13.5% to EUR1,794m (2014: EUR1,580m). The EBIT margin in the segment was unchanged at 9.5% and was in the upper half of the targeted range of between 8 and 10%. Profit before tax of EUR1,634m (2014: EUR1,643m; -0.5%) was at a similar level to the previous year. Earnings were held down by a number of factors, such as fair value losses recognised on commodity derivatives.
The BMW brand also recorded a new sales volume high, with 451,576 units (2014: 428,259 units; +5.4%) sold during the first quarter.
Mini also recorded a new high for first quarter deliveries to customers – 74,312 units (2014: 57,868 units), 28.4% up on the previous year. Sales of the hatchback (three and five door) more than doubled to 47,922 units (2014: 17,860 units).
Though volume was down year on year, Rolls-Royce achieved the second best first quarter sales volume performance in its history, with 781 units delivered (2014: 897 units; -12.9%).
In line with its strategy of a balanced distribution of worldwide sales, the group recorded sales volume growth in all major sales regions.
Financial services
The Financial Services segment also booked new first-quarter highs. Segment revenues were 23.9% higher at EUR6,058m (2014: EUR4,890m) while profit before tax rose by 23.4% to EUR559m (2014: EUR453m). The segment result benefited in particular from favourable exchange rate developments.
Outlook
The group reaffirmed its targets for the full year. "We are aiming to achieve solid growth in 2015, and hence new record figures for sales volume and profit before tax," said Reithofer.
Automotive segment revenues are forecast to grow "significantly" due to the increase in sales volume and exchange rate factors. The company had previously expected a "solid" growth in revenues. The EBIT margin in 2015 is forecast to remain within the targeted range of between 8 and 10%.