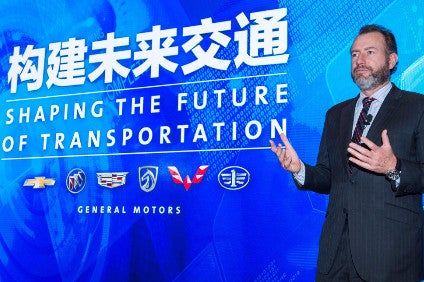 GM's president Dan Ammann and GM China president Matt Tsien announced jointly today (Monday, 21 March) the company's strategy for Chinese market growth in the next five years.
The strategy will deliver a stronger product mix, greener technologies and smarter solutions for personal mobility in the world's largest vehicle market, the automaker said in a statement.
Between now and 2020, GM and local joint ventures plan to launch over 60 new or refreshed models in China, including 13 this year, with a strong focus on SUVs, MPVs and luxury vehicles.
Continued strong demand have helped China remain GM's largest market despite economic headwinds. Last year, China accounted for more than a third of the company's global deliveries. GM expects China's vehicle market to increase by 5m units or more by 2020, growth of about 3%-5% annually.
"GM is very well positioned to participate in this growth," said Tsien. "We will continue to focus on the segments where the demand is strong and growing. This has been a key to our success from day one."
However, a Wall Street Journal report on the GM announcement noted demand actually is expected to cool further this year. A stockmarket plunge in the first two months exacerbated fears that China's slowdown may be worse than expected, the WSJ said, adding that, in 2015, China grew at its slowest pace in 25 years.
The WSJ said growing affluence among Chinese consumers has spurred demand for luxury cars and spacious crossovers. Last year, Chinese sales of sport-utility vehicles and crossovers jumped 52% from a year earlier, and sales of luxury cars rose more than 10%, according to the WSJ, citing data from PWC's consulting group Strategy&.
Addressing SUV, MPV and luxury segments
GM itself anticipates about 4.2m units of growth in China's SUV, MPV and luxury segments by the end of 2020 with the industry's luxury segment expected to generate compound annual growth of more than 10% during that period.
To capitalise on this trend, about 40% of the new vehicles that GM launches in China over the next five years will be SUVs and MPVs, and the Cadillac luxury brand, boosted last January by the opening of a new, 160,000-a-year capacity plant at the SAIC-GM joint venture in Shanghai to build the CT6 sedan, will introduce 10 new or refreshed models.
During the same period, GM and its joint ventures will launch more than 10 new energy vehicles under the Chevrolet, Buick, Cadillac and Baojun brands. They will include the Shanghai-built Cadillac CT6 PHEV which will go on sale later this year.
China will also benefit from GM's global initiatives to accelerate the refreshing of its model lines. This year and in each of the next few years, 40% of the company's global sales are expected to come from new and refreshed models, up significantly from 25% in 2015. Several of these vehicles will be developed, built and sold in China.
Focus on growth markets and value-added services
"Our core business of selling great vehicles today is what will fund our investment in tomorrow," said Ammann. "The China market is maturing and it will still be a tremendous source of growth for us in both the short term and the long term."
GM announced last July it would spend $5bn in coming years on a family of vehicles for global growth markets. Working with SAIC, GM will replace several current vehicles based on multiple architectures with a larger family of vehicles based on one core architecture.
In addition to vehicles, GM is also eyeing business opportunities in value-added services such as financing and insurance.
Its SAIC-GMAC joint venture is the largest dedicated automotive finance company in China. By the end of this decade, GM sees potential for up to 40% of car buyers in China to finance their purchases compared to about 30% in 2015.
The INSAIC joint venture will continue offering customers insurance when purchasing GM vehicles. It will also channel vehicles to GM dealerships for repairs.
Investing in personal mobility
GM also is executing a plan to capitalise on the future of personal mobility using tools such as connectivity, ridesharing, car sharing and autonomous driving.
The automaker said it holds nearly 500 connectivity patents and has been the industry leader for two decades with OnStar. By the end of 2016, GM will have 12m OnStar-connected vehicles on the road. By 2020, more than 75% of its global sales volume is expected to be actively connected. In China, all Cadillac, Buick and Chevrolet models will be connected by 2020.
Earlier this month, Shanghai OnStar and the Midea Group announced a unique strategic partnership for the integration of onboard telematics and smart household technology "to enhance the consumer experience".
GM recently announced a long-term strategic alliance with Lyft to create an integrated network of on-demand autonomous vehicles in the United States. GM will invest $500 million to help the company continue the rapid growth of its successful ridesharing service.
In January of this year, GM started its own personal mobility brand called Maven which combines and expands the company's multiple car-sharing programmes, including the EN-V 2.0 pilot program with Shanghai Jiao Tong University.
GM followed that up earlier this month, when it announced the acquisition of Cruise Automation to add Cruise's deep software talent and rapid development capability to further accelerate its own development of autonomous vehicle technology.