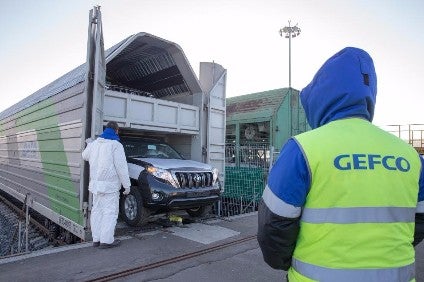 Logistics operator, GEFCO says its Russian operations have been able to largely cope with the downturn in the domestic automotive market by diversifying and leveraging expertise from parent company, RZD.
RZD or Russian Railways owns 75% of GEFCO and PSA Group the remaining 25%, with the giant train operator employing a colossal 1.2m staff making it the largest employer in the country.
PSA divested its majority stake in 2012, but late last year inked a colossal EUR8bn (US$8.6bn) deal with GEFCO to manage the automaker's entire global manufacturing supply chain for five years.
Russia's much-publicised economic downturn – triggered in large part by heavily falling oil prices – although this is now stabilising at a far more palatable US$50 or so – has seen companies in the automotive sector having to hold their nerve to stay in what was once touted as a possible 4m market – or in the case of GEFCO to broaden its portfolio.
"One of the ways GEFCO Russia succeeded was the development of customs excise operations fairly early," GEFCO regional vice president and board member, Phil Shankley told just-auto in his Moscow office. "The complexity of customs and border controls [means] to have expertise is definitely a leading edge.
"Geopolitically, we face the same issues as any other logistics company. We also put ourselves in other places such as Nizhny Novgorod [home to Russian LCV manufacturer, GAZ Group], largely because of its automotive cluster. We have got dots in the map where we feel we need to be.
"The other aspect is road versus rail. Up until the ownership by RZD, we were pretty exclusively road, but we have people now in our team in Moscow who are more rail expert. We have been learning rail and learning where to build that into our solution domestically in Russia – with the distance involved there is huge opportunity."
GEFCO has been established in Russia since 2003, seeing the rising curve of automotive sales starting with General Motors' mid-range models, followed by Peugeot and subsequently capitalising on overseas OEMs who established domestic manufacturing bases and joint ventures with home-grown companies.
Also, in 2015, the company inked a 4PL contract with Ferronordic Machines, where GEFCO provides logistics for oversized and heavy equipment throughout Russia, including remote regions guaranteeing cost reduction by 10% within five years.
Shankley himself moved to Moscow in 2014 to be the representative of the CEO in the relationship with RZD. In addition, he has executive management responsibility for the '1520 zone,' covering GEFCO operating companies in Russia, the Baltics and Kazakhstan.
"This core of automotive stuff began to build," added Shankley. "I remember hearing a debate, we are doing rather well, we are developing a reputation which goes with our global reputation."
However, the post-2012 period gave rise to the severe decline in the Russian automotive sector, which saw the Association of European Businesses Automobile Manufacturers Committee (AEB AMC) issue successive and decidedly gloomy monthly sales reports, although there is cautious optimism the worst may have been weathered as the oil price recovers.
"At various points in the Russian experience there have been deep falls," noted Shankley. "You are left with a real logistical challenge. Everybody in the market learned a lot in those days as there were shortages of capacity.
"This time it has been different because when the decline came – precipitated by the oil price reduction and not sanctions – the decline has been much more steep and permanent.
"Our reaction at GEFCO has been to diversify and we have been looking into other industries. One of the things that happened at the same time as RZD ownership [was] it gave us access to Russian strategic industries, large former State-owned corporations like Severstal and Gazprom.
"Two years ago we were talking about recovery and at the start of 2017 the figures are slightly less, so we are still bottoming out. We work with a fairly wide range of OEMs, contracts with all the big guys, Volkswagen, Mercedes, Peugeot, Mitsubishi, Jaguar Landrover."
Echoing GEFCO's view the worst of the storm may have passed, AEB AMC chairman, Joerg Schreiber told just-auto in Moscow last week that after four years of consecutive decline where the Russian market lost 50% volume, 2017 could be the year of a "soft return."