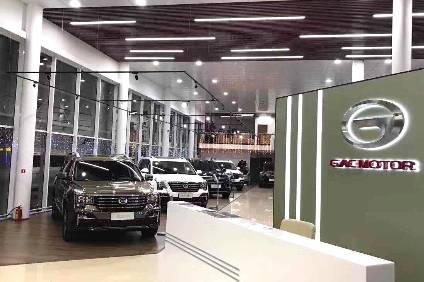 China-based GAC Motor has officially launched the luxury SUV GS8 across Russia, with newly opened stores in Moscow, St. Petersburg, and Vladimir offering test drives.
The GS8 SUV marks the automaker's debut into Russia, following a successful launch ceremony held late last year in the Museum of Moscow.
"I used to work in China and drove this car while my office work. I choose GS8 because of its big size, premium looking and higher reliability. I highly recommend others to have one," said Nikolayev Sergey, the first GS8 owner in St. Petersburg.
GAC claims the GS8 has been praised by leading Russian automotive publications for its design and power systems.
The seven-seat SUV is powered by a second-generation 320T engine, a third-generation Aisin 6-speed AMT and a second-generation intelligent four-wheel drive and an all-terrain feedback system, the company says.
GAC also says the GS8 has features specifically for Russian consumers, including heated steering wheels and front windshield.
In 2020, GAC says it will focus on Moscow, St. Petersburg and other large cites with a population over 1m for further channel development opportunities, with plans of setting up cooperation with 15 new distributers. At the same time, it will strengthen production and sales coordination to ensure the supply of future models in Russia.
The GN8 and new GS5 models are also expected to be granted with access permission to the Russian market in the first half of 2020.