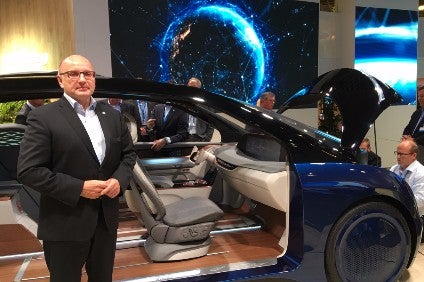 Yanfeng Automotive Interiors (YFAI) says one of the ways to deal with rising labour costs in Eastern and Central Europe is to improve efficiency through new technologies such as 3D printing and digitalised factory operations.
The interior supplier has been extremely active of late in the region building on the opening of the Planá nad Lužnicí plant, as well as its Automotive Business Centre in Bratislava and the inauguration of its Technical Centre in Trencín, Slovakia.
In addition to these locations, the supplier also has a plant in Žatec manufacturing door panels, floor consoles and other interior components in the Czech Republic as well as production sites in Papa, Hungary and Námestovo, Slovakia.
But intense competition among the Visegrad 4 countries of Hungary, Czech Republic, Slovakia and Poland for labour, has seen the once very low-cost countries present more challenges for OEMs and suppliers who have set up operations there.
"The challenge is Eastern Europe due to labour shortage and this heavy increase in labour cost," YFAI CEO, Johannes Roters told just-auto at this week's IAA in Frankfurt. "People moved East and it might come to the point when it is somehow over.
"The answer for this is to focus on different ways of how we manufacture – 3D printing is now and I believe the manufacturing side will change radically. Investment, variable cost, this might end up at US$5-US$7 per hour, but find [ing] labour at US$5-US$7 is more challenging.
"Talk about forklifts – this will be automated in the future – the forklift driver will disappear. People are nervous because they see uncertainty, but the workforce you need in the future is different from today. How do we train people? It is something people need to put on their top priority list.
"When you look at China and what they spend on education – this is a change [which] we need in Europe as well. That means the workforce will change on the floor. Then what do we do with low-educated people? How do we move them into the new world? That is a challenge."
The YFAI chief emphasised he understood why union members might be "scared" about embracing new technology on the factory floor, but pointed to education as a means to reassure those worried developments such as Industry 4.0 represent a threat to employment. "People are scared because they don't know what it means," noted Roters.
YFAI has already recruited 170 staff for its latest plant in Planá nad Lužnicí, with this number gradually increasing to 300 by the start of next year and rising up to 500 by 2021.
The supplier is currently looking for quality control or engineering graduates as well as operators and staff for the tool maintenance department, but the Visegrad 4 countries in particularly are increasingly finding the recruitment of staff problematic.
Add to that a certain amount of industrial unrest in the region – for example this summer's six-day strike at Volkswagen's Bratislava plant in support of a 16% wage increase demand – and the area is not without its challenges.
"You can go further out to other countries like Serbia or Macedonia, but there is distance," added Roters. "We are trying to drive automation forward…we are working on 4.0. I believe many jobs will come.
"Take the phone. You had to connect phones by cable around the world, then you had rooms where you connected the lines. They are all gone. What we have seen happen today is even faster.
"Do not be scared, see this as an opportunity, but be open. Don't look backwards – history will not come back."