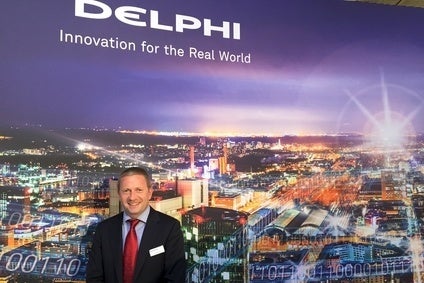 Delphi Powertrain says it was able to act nimbly following the recent catastrophic explosion in Tianjin, China, which reportedly was the equivalent of 21 tonnes of TNT dynamiting into the air. The explosion resulted in severe loss of life and 10,000 new cars were also destroyed in the ensuing inferno and, while Delphi had some product there, it reacted swiftly to mitigate the ensuring logistics challenge.
"[With the] Tianjin Port explosion, we had some products stuck and we had an alternative supply chain strategy," Delphi Powertrain Systems SVP and president, Liam Butterworth told just-auto on the sidelines of the Frankfurt show.
"Having capacity in more than one location is very important for us," said Butterworth. "We are a very strong global purchasing organisation in Delphi, which is working with suppliers to manage risk. Risk management is a key part of our overall supply chain strategy.
"I took over this division 18 months ago and we put a regional business structure in place because supply chains are increasingly complex. Everything we sell, we should sell in the region where it is consumed. We have capability to produce all our portfolio in Asia, America and Europe not just to minimise supply chain risk but to minimise currency fluctuation and improve reactivity to our OEM customers. It is an increasing demand from our customers, they don't' [want] to be shipping produce around the world because of cost."