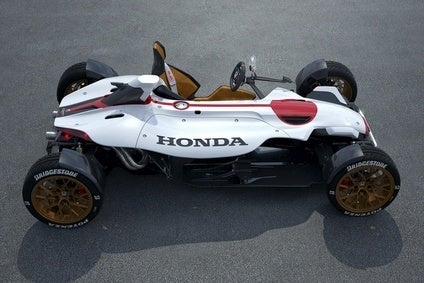 Honda is to show a four-wheeled motorcycle-derived concept designed to deliver and 'immersive driving experience' at the upcoming Frankfurt Show. 'Honda Project 2&4 powered by RC213V', the winning entry from Honda's 'Global Design Project', will make its global debut at the 66th Frankfurt Motor Show at stand B11 in Hall 9.0.
The concept features a cabin-less structure and a 'floating seat' design that Honda says gives an immersive driving experience. The car is powered by Honda's MotoGP RC213V engine, modified to run on public roads.
Honda says the project brings together the brand's unique capabilities in two- and four-wheel mobility and that the 2&4 provides the freedom of a motorcycle and the manoeuvrability of a car.
The engine is a 999 cc V-4 four-stroke unit and transmission is provided by a six-speed DCT gearbox. Honda says that over 80 designers and creators participated in the in-house 'Global Design Project' competition, which is part of Honda's initiative to inspire creativity as one 'Team Honda'.
The objective of the annual contest between Honda design studios is to challenge team and project members to share one goal and achieve high targets.
Honda Project 2&4 was conceived by Honda's motorcycle design studio in Asaka and designed in collaboration with the automobile design studio in Wako.