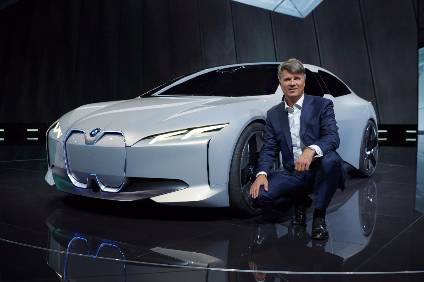 BMW has shown its 'i Vision Dynamics' concept at Frankfurt. The four-door Gran Coupe study has a pure-electric drive system and BMW says it offers 'a clear image of the electric mobility of the near future'. The concept also previews a possible future i' brand model that would sit between the i3 and i8.
The BMW i Vision Dynamics has a range of 600 km (373 miles), a top speed of over 200 km/h (120 mph) and acceleration of 0 –100 km/h (62 mph) in four seconds, and BMW says it 'offers a look ahead to the e-mobility experience of the future with a new level of sporting elegance'.
"At the BMW Group, the future of electric mobility has already arrived," said Harald Krüger, Chairman of the Board of Management at BMW AG. "We have more electrified vehicles on the road than any established competitor and are committed to expanding our activities in the field of electric mobility as part of our NUMBER ONE > NEXT strategy. By 2025 we will be offering 25 models with an electrified drive system – of which 12 will be pure-electric.
"With the BMW i Vision Dynamics we are showcasing how we envisage future electric mobility between the i3 and i8: a dynamic and progressive, four-door Gran Coupe. We are therefore electrifying the heart of the BMW brand and, at the same time, elevating BMW i into a totally new dimension."
BMW board member Klaus Fröhlich, highlighted the pioneering aspect of BMW's 'i" sub-brand. "BMW i also acts as a spearhead of innovation for our other brands. The BMW i Vision Dynamics allows us to show right now what another electric BMW might look like. And BMW has demonstrated its talent for turning visions into rea turning visions into real life throughout its history."
BMW said 'the new characterisation of the window profile is a standout feature of the BMW i Vision Dynamics'. The styling cue, which made its debut on the first wave of BMW i models, is depicted "in a fresh, likewise function-led interpretation and also sharpens the identity of the car's flanks."
Also shown by BMW at IAA 2017:
'Bayerische Motoren Werke' and a black and white roundel for BMW's 'elite' models, which will be the i8, 7 Series, 8 Series and X7
BMW 6 Series GT: replacement for 5 Series GT is lighter and lower but 87mm longer, will be made at Dingolfing
BMW i3 facelift & i3S: new S has a motor which produces 135kW (184hp) and 270Nm, both cars available with 28kW (35hp) two-cylinder range extender
BMW M5: show debut following 21 August media premiere, 441kW (600hp) & 750Nm biturbo 4.4-litre V8, new RWD-4WD system, 0-100km/h in 3.4 seconds
BMW X3: public debut, following the new model's showing to the media at an event in June
BMW Concept X7 iPerformance: preview of next year's big SAV which will be manufactured at Spartanburg