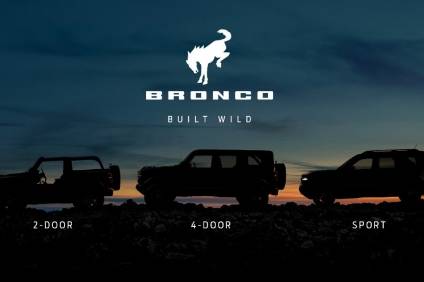 Ford is to create a new family of rugged SUVs and revive the Bronco name that lasted from the 1960s through the mid-1990s. Unlike its iconic predecessor, the next Bronco will also launch as a new sub-brand for the company.
Ford has confirmed that the Bronco will be offered in three and five-door forms, along with a smaller Bronco Sport to sit below the regular version. Rumours also suggest that Ford will bring out a pickup truck version of the Bronco, allowing it to directly compete with the Jeep Gladiator – FCA's Wrangler-based pickup.
Ford says new Bronco will embody 'Built Wild Extreme Durability Testing, Capability and Innovative Design principles for segment-leading levels of 4×4 capability, plus long-term off-road performance and dependability'.
The Bronco team is also creating its new 'Off-Roadeo' outdoor adventure playgrounds to four US locations starting next year. Ford says owners and enthusiasts can test the new Bronco lineup in challenging terrain and experience 'authenticity in the wild'.
Ford will unveil the Bronco models at 8:00 pm EDT on July 13 when customers can reserve a new Bronco with a $100 refundable deposit. It will be shown across Disney network channels National Geographic, ESPN and ABC.
"Bronco gave rise to the fun and versatile off-road SUV in 1966, becoming the first enjoyable sport utility vehicle for those who wanted to live, work and play outdoors," said Jim Farley, Ford chief operating officer. "Like the original, the all-new Bronco family is engineered to take you to epic places, with capability to deliver confidence on any type of terrain."
Ford's off-road SUV expertise traces back to World War II, when the automaker was part of a government competition to build rugged carry-all utilities for GIs in the battlefield. Ford's entry was called the GP, for General Purpose. More than 270,000 Ford GPs were built for Allied forces. GIs returning home bought Army surplus GPs for work and play, but they were too small and uncomfortable for civilian life, according to Ford research from the early 1960s, so Ford developed a more refined, spacious, yet durable off-road vehicle to meet this need – Bronco.
Early Broncos had a rugged body-on-frame design with short front and rear overhangs, high ground clearance and a short wheelbase, for maximum off-road capability.
"Rugged vehicles are in our heritage and we see strong growth opportunities with this ever-more popular segment," said Kumar Galhotra, Ford president, Americas and International Markets Group. "The Bronco brand meets that need by creating a family of truly capable off-roaders to take our customers further into the wild. We've leveraged extensive off-road experience from vehicles like our F-150 Raptor to ensure that every Bronco delivers the 'Built Wild' toughness and durability our customers expect."
"Bronco delivers on the common thread desired by enthusiasts – authenticity," said Mark Grueber, Ford U.S. consumer marketing manager. "Building Bronco as Ford's distinct outdoor brand includes a unique network of experiences, community and engagement that extends far beyond ownership of Bronco and Bronco Sport models."