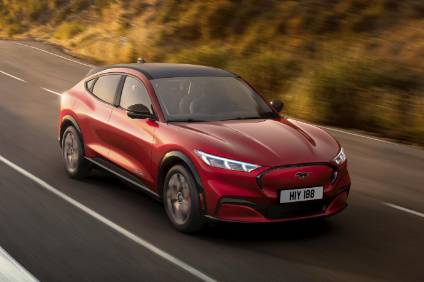 Ford has announced that Mustang Mach-E will be manufactured in China by Changan Ford for local customers.
The car becomes available in China later this year. The Mustang Mach-E is built on a proprietary Ford NA engineered platform and currently manufactured only at a plant in Mexico.
Ford will also localize production of the Mustang Mach-E's GT performance edition in China, described as an 'unprecedented move by a global automaker to locally manufacture high-performance editions'. The GT high performance edition will adopt a front and rear dual-motor layout, joining the 3-second club with its impressive 0-100km/h acceleration capabilities.
Ford says it is moving quickly in delivering its electrification commitment with investments of more than $11.5 billion in electric vehicle development through 2022. The localized production of Mach-E in China is a key step in the company's "Best of Ford, Best of China" strategy to offer Chinese customers industry-leading smart vehicles and advanced technologies, the company says.
China is also shaping up as a high-growth market for electrified vehicles. China is by far the largest market for electric vehicles globally and its prominence is expected to grow in the coming years.
Sales of electric cars are picking up especially strongly in China's automotive market recovery that gathered pace in the second half of last year.
Sales of new energy vehicles (NEVs – battery electric vehicles and plug-in hybrids) jumped by almost 50% to 248,000 units in December and by close to 11% to 1.367 million units over 2020 – including 1.116 million fully electric vehicles and 251,000 plug-in hybrid vehicles.
See also: Beijing successfully steering China's market recovery to EVs