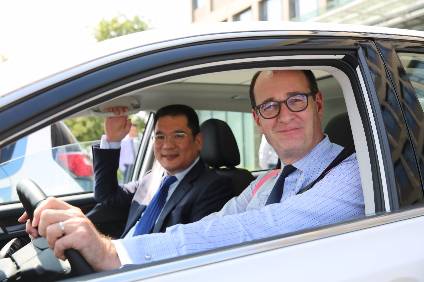 Ford has announced the signing of a Memorandum of Understanding (MoU) with Anhui Zotye Automobile Co., Ltd., a major manufacturer of all-electric vehicles in China.
Ford says the goal of the MoU is to explore the establishment of a joint venture for the development, production, marketing and servicing of a new line of all-electric passenger vehicles in China.
"The potential to launch a new line of all-electric vehicles in the world's largest auto market is an exciting next step for Ford in China," said Peter Fleet, Ford group vice president and president, Ford Asia Pacific. "Electric vehicles will be a big part of the future in China and Ford wants to lead in delivering great solutions to customers."
China is the fastest-growing market in the world for new energy vehicles (NEVs). Ford expects the market for NEVs in China to grow to six million units per year by 2025, of which approximately 4 million vehicles will be all-electric.
Zotye Auto is described as a pioneer in the Chinese all-electric vehicle segment and was one of the first automakers to produce all-electric passenger vehicles in the country. It is the market leader in China's all-electric small vehicle segment. Zotye sold more than 16,000 all-electric vehicles through July this year, representing a growth of 56 percent year-over-year, Ford says.
Vehicles produced would be sold under an indigenous brand owned by the new joint venture and would aim to capture a sizeable share of China's all-electric passenger vehicle market. Additional details, including information about the brand, products and production volumes, will be announced at a later date, pending a final definitive agreement and regulatory approvals.
"The MoU between Zotye Auto and Ford opens the door for us to explore our cooperation in the development of clean energy vehicles," said Jin ZheYong, chairman and president, Anhui Zotye Automobile Co., Ltd., based in Huangshan, Anhui province "This presents us with an exciting opportunity to leverage each other's strengths in achieving a win-win situation for both parties' growth in the fast-evolving Chinese electric vehicle market."
Ford recently said that 70 percent of all Ford vehicles sold in China will have electrified powertrain options by 2025.