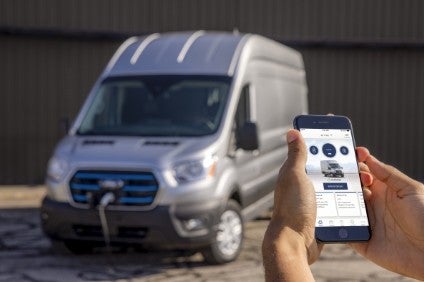 Ford has announced the Kansas City built 2022 E-Transit for the US and Europe. The electric version of the cargo van will be priced from under US$45,000.
The E-Transit has SYNC4 – when paired with the activated standard embedded modem, this unlocks software subscriptions that help fleets manage charging transactions and telematics services.
Optional Pro Power Onboard turns the BEV van into a mobile generator with up to 2.4kW of available power to help customers use and recharge job site tools.
Ford claims the E-Transit was designed "with insight from 30m miles of customer telematics data to deliver the right amount of range based on fleet needs; E-Transit delivers an estimated driving range of 126 miles in the low-roof cargo van variant".
It is the first all-electric cargo van from a full-line automaker in North America and offers a choice of eight configurations including three roof heights and three lengths, plus chassis cab and cutaway models with a powerful electric motor targeting 266hp/198kW of power and 317 lb.-ft. of torque.
It goes on sale late in 2021.
"Ford is North America and Europe's commercial truck and van leader, so the transition of fleet vehicles to zero emissions, especially for the fast growing last mile delivery segment, is critical to achieve our carbon neutrality goal by 2050," said Jim Farley, Ford president and CEO.
He told a US briefing the automaker expects to sell 1.1m full size electric connected commercial vehicles by the end of the decade.
The E-Transit is backed by a network of 645 CV dealers across the US – about 90% of which are electric vehicle certified.
The E-Transit offers the same interior cargo dimensions and standard mounting points for continued integration with hundreds of upfitters and vehicle modifiers worldwide who provide compatible racks, bins and accessories on ICE-powered Transit. The majority of US Transit vehicles sold last year were upfitted.
The E-Transit is part of a Ford investment in electrification of more than $11.5bn through 2022. The Mustang Mach-E begins arriving later this year while the BEV F-150 pickup truck starts reaching dealers in mid-2022. In North America, Ford is the first full-line automaker to announce plans to produce both an all-electric full-size pickup truck and a full-size van for customers – including fleet owners.
Scheduled maintenance costs for the electric Transit are estimated to be 40% less than the average scheduled maintenance costs for a petrol-powered 2020 Transit over eight years/100,000 miles.
E-Transit comes with access to North America's largest public charging network – providing drivers with seamless public payment capability and providing fleet managers with central account and billing management.
It has both AC and DC fast charging, coming standard with a mobile charger cable that can plug into a normal 120 volt outlet for slow and steady charging or into a 240 volt outlet for faster charging. Those wanting the fastest home charging can purchase a Ford branded charge station which can fully charge the van in eight hours.
On a 115W DC fast charger, cargo van low roof models can achieve approximately 30 miles of range in 10 minutes and approximately 45 miles of range in 15 minutes. When plugged into a 240 volt outlet, they achieve approximately 10 miles per charging hour using the mobile charger. Employing a charge station brings the number up to approximately 15 miles per charging hour.
The traction motor battery is located underneath the vehicle body, providing up to 487.3 cubic feet of cargo space inside the high roof, extended wheelbase variant.
Engineers redesigned the rear wheel drive and rear suspension to optimise cargo space, creating a heavy duty, semi trailing arm suspension system enabling better steering precision and more confident handling, plus better traction both in laden and unladen conditions.
For cargo vans in the US, Ford is targeting a maximum payload of 3,800lb, and up to 4,290lb for cutaway versions.
For Europe, the E-Transit targets an estimated WLTP driving range of up to 217 miles – roughly three times the distance the average European fleet driver covers daily, according to Ford.
European customers will be offered a choice of body, length, roof height and GVM options, giving 25 possible variants. Payload is targeted up to 1,616kg for the van and up to 1,967kg for the chassis cab models. E-Transit reaches this side of the Atlantic in spring 2022.
Customers will get a claimed best in class, one year, unlimited mileage service offering that sits alongside the eight-year, 100,000 mile warranty package for the battery and high-voltage electric components.
Following the successful city partnerships featuring the Transit Custom Plug-In Hybrid, Ford will be undertaking extensive customer fleet trials with E-Transit in key European markets, starting during 2021.