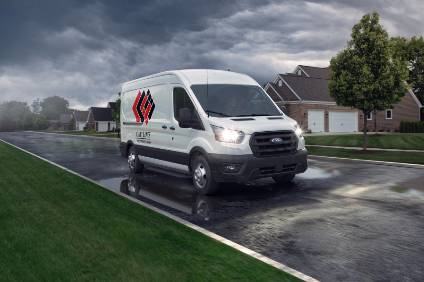 Ford has halted production at its Kansas city assembly plant (on the Transit side) after a worker tested positive for COVID-19.
The Transit van assembly area of the plant is undergoing a deep clean as result of the development. The Kansas City Assembly Plant in Claycomo, Missouri, makes the Transit van and the F-150 pickup, but only the Transit van side of the facility is affected. During the first week of the industry restart last week (May 18), Ford also shut down its Chicago Assembly Plant twice for issues related to coronavirus at the plant and involving a supplier.
Ford said in a statement: "The safety of our workforce is our top priority. Working closely with the UAW and external experts in infectious disease and epidemiology, we have developed safety standards to protect our workforce. In this instance, our protocol calls for us to deep clean and disinfect the employees' work area, equipment, team area and the path that the employee took while at the plant today [26 May].
"We are temporarily pausing production at Kansas City Assembly Plant – on the Transit side – until the deep cleaning is completed. We are notifying people known to have been in close contact with the infected individual and asking them to self-quarantine for 14 days."
The halt for Ford's Kansas facility illustrates one of a number of potential problems for OEMs and suppliers as they look to restart manufacturing operations as lockdowns ease around the world. One problem is that the COVID-19 pandemic is not yet over and fresh outbreaks can disrupt activity. A related problem is that disruptions can occur anywhere in the already stressed supply chain. On top of all that, demand for final products remains far below normal levels with an uncertain recovery trajectory.