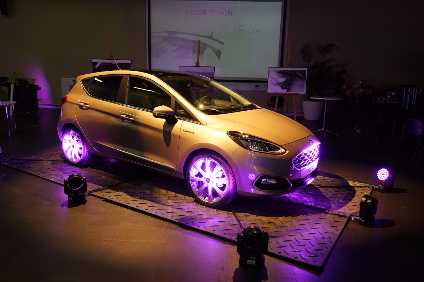 Ford says it has begun production of the new generation (8th) Fiesta model at its plant in Cologne, Germany.
Ford is investing around EUR293m in new production processes at its Cologne facility to build the car and a new Fiesta will roll off the line every 68 seconds.
"We have taken this iconic small car's lovable, fun and sporty-to-drive character to the next level, with a greater choice of models than ever and with advanced technologies and features that small-car customers could only have dreamed of just a few years ago," said Jim Farley, Ford's European area chief.
Same platform but new, slightly longer body
The Mazda-engineered platform of the outgoing model, rebranded as Ford's Global B architecture, has been thoroughly updated for the new car. On the outside, the big changes occur at the rear, where the vertical tail lights of the sixth and seventh generation models are replaced by horizontal lamps. The side profile is not that different to the existing model but there is a fresh styling direction for the front end, which means an end to the Aston Martin-style grille. The biggest changes take place inside, where the dated dashboard and its tiny infotainment screen are replaced by a far more attractive design which includes touch screens up to eight inches in diameter.
Where else will it be manufactured?
In addition to production at Cologne, the next model should also be built by Changan-Ford in Nanjing, at Ford of India's Maraimalai Nagar plant (Chennai) in Tamil Nadu, in Brazil at São Bernardo do Campo, in Thailand by FTM (Rayong) and at CSAP in Mexico (Cuautitlán).
Cars for North America will follow in 2018.
The outgoing Fiesta model has continued to sell well in Europe in recent months and outsold the VW Golf in March.
See also:
Ford ramps up ADAS on new Fiesta