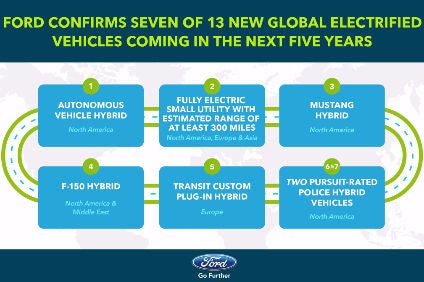 Ford has said it will cancel plans for a new small car plant in Mexico and plans to massively expand investment in the US for electrified cars – a move that will create some 700 direct jobs in the US.
Ford said it plans 13 new global electrified vehicles over the next five years and is investing some US$700m to add 700 direct new jobs in its Flat Rock (Michigan) Assembly Plant to create a factory capable of producing high-tech electrified and autonomous vehicles. It currently makes the Ford Mustang and Lincoln Continental there.
Ford's electrification plans include a plug-in hybrid Transit Custom van in Europe, hybrid versions of the F-150 pickup and Mustang in the US, and a fully electric SUV with an expected range of at least 300 miles for customers globally, the company says.
The moves are part of a US$4.5bn investment in electrified vehicles by 2020.
In a surprise move, Ford also announced it is cancelling plans for a new assembly plant in San Luis Potosi, Mexico – although its next Focus will still be made in Mexico, at an existing plant in Hermosillo, Mexico. This, Ford said, will make way for 'two new iconic products' at Michigan Assembly Plant in Wayne, Michigan, where Focus is manufactured today – safeguarding approximately 3,500 US jobs.
Ford attracted the ire of US president-elect Donald Trump during his election campaign when he criticised Ford's Mexico investments and threatened to impose hefty import tariffs on vehicles imported from the US to Mexico (although today Trump turned his twitter fire on Ford rival General Motors over the same issue).
The Ford plans were also described as being are part of the company's expansion to be an auto and a mobility company, including leading in electrified and autonomous vehicles and providing new mobility solutions.
"As more and more consumers around the world become interested in electrified vehicles, Ford is committed to being a leader in providing consumers with a broad range of electrified vehicles, services and solutions that make people's lives better," said Mark Fields, Ford CEO. "Our investments and expanding lineup reflect our view that global offerings of electrified vehicles will exceed gasoline-powered vehicles within the next 15 years."