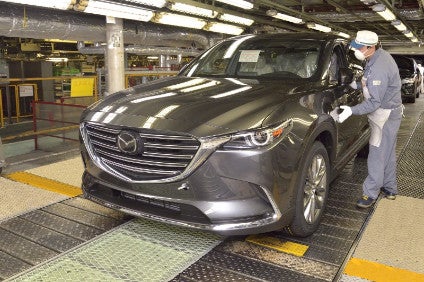 Devastating flash floods and landslides in Japan so far have left more than 90 fatalities and 50 people missing, and have prompted the evacuation of over 2m people from their homes. The natural disaster has also brought to a halt automotive production at a number of plants in the country, mainly in the western prefectures of Hiroshima, Kyoto and Yamaguchi, as well as in the nearby city of Osaka.
Vehicle manufacturers, including Mazda, Nissan, Mitsubishi and Daihatsu, suspended production at several plants over the weekend and these were still closed on Monday due to concerns over safety, traffic disruption and parts supplies.
Hiroshima prefecture, home to Mazda, has been the hardest hit by the devastation – accounting for most of the deaths and destruction recorded so far in the country.
The vehicle assembly plants known to have been affected so far include Mitsubishi's Okayama facility, Daihatsu's Osaka and Kyoto plants, Mazda's main plant in Hiroshima plus a Nissan factory understood to be in Kyushu.
Many component suppliers, including Panasonic, have also been forced to halt operations.
The stoppages could be extended well into this week as rain continues to fall over the region.