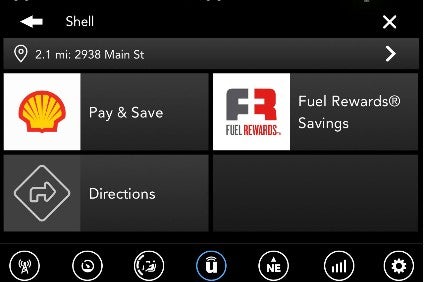 FCA in the US is launching Uconnect Market, a new platform that allows car occupants to make on demand reservations and to purchase products and services directly from the vehicle touchscreen.
They can order food, find the nearest petrol station, save money on fuel purchases and make restaurant reservations.
Pump-and-pay fuel purchases at participating locations can be authorised, parking located and paid for and service appointments scheduled at dealerships without the need for a physical credit card.

"Our customers live busy lives, and our goal with the Uconnect platform is to provide an advanced portfolio of services to make their daily drive more convenient, productive and enjoyable," said Alan D'Agostini, global head of connected services at FCA.
"We continue to ramp-up our connectivity efforts around the world with the goal of having all new FCA vehicles connected by 2022."

Launch brands include Shell, Domino's, Park Whiz and Yelp Reservations.
Uconnect Market was developed with Seattle-based Xevo, recently acquired by Lear Corporation. The platform will deploy in the second half of 2019 via an over-the-air (OTA) update for model-year 2019 and 2020 Chrysler, Dodge, Jeep and Ram brand vehicles equipped with connected services and the latest 8.4-inch touchscreens, and will continue as a carryover feature for future models equipped with the 8.4-inch touchscreen.
The Uconnect Market introduction follows the recent FCA announcement of a new in-vehicle ecosystem using Harman (Samsung) and Google technology. The new system will manage in-vehicle and additional data using an architecture based on Harman's Ignite cloud-based platform. It will also be powered by Android, offering an app-based environment that provides fresh content via OTA updates, fast interaction and seamless wireless integration with the customer's mobile devices.

The key components will start to roll out in phases world wide during the second half of 2019 and all new FCA vehicles will be connected by 2022.