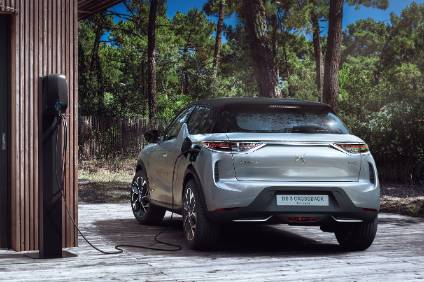 When Groupe PSA adds a fully electric variant to its new DS 3 Crossback range later this year, the car will come with a claimed range on full battery charge of 200 miles (on the WLTP drive cycle, 267 miles on NEDC).
The car (the variant will be 'E-Tense') will be equipped with a 50kWh lithium-ion battery and a system for recovering energy during deceleration and braking.
DS says that range is maximised by the ability to pre-set cockpit temperature before driving and incorporates a 'very efficient heating pump'. Its efficiency, with a reduced electrical consumption, optimises thermal comfort in the passenger compartment without affecting battery temperature control, DS maintains. "With this set of technologies, which we assemble, we are convinced that we have reached another stage in the mass manufacturing of electric vehicles," says Rémi Seimpère, DS 3 Crossback E-Tense project director. "Such control also lets us offer a very attractive warranty: eight years or 100,000 miles."
The 100kW rapid charging adds 5.5 miles of range every minute and will complete an 80% charge in 30 minutes. DS drivers can purchase a connected smart wall box (single phase), enabling a 100% battery charge in 8 hours.
DS maintains the complete battery pack – cells, cooling system, management and control intelligence – weighs just 350kg. The brand adds that DS 3 Crossback E-Tense only weighs 300kg more than the petrol or diesel version. Despite the weight penalty that comes with the battery, DS says it was possible to reduce the car's overall weight (by 50 kg) because an electric motor is lighter than an internal combustion engine and because the car does not need a fuel tank or an exhaust pipe.
DS in the UK reports a high level of interest in the electric variant of the now launching DS 3 Crossback range. "We have seen that a large number of expressions of interest in the car are for the electric version," UK DS MD Alain Descat told just-auto. "We will have to see how that translates into sales, but it is certainly very encouraging – we have been a little surprised by the numbers. It bodes very well.
"The flexibility of the CMP (compact modular platform) means that we have versatility to adjust the petrol/diesel/electric mix according to customer needs and demands."
DS is also offering a range of services to support drivers of its electric E-Tense models. Through the MyDS app, it is possible:
to programme or switch on charging of DS 3 Crossback E-Tense
to follow the state of charge on a smartphone: stops charging when sufficient charge is reached or notification when the battery is full
and to control and program thermal preconditioning, which allows the cockpit temperature to be set, which can also be controlled remotely. It provides a 3% range extension if pre-set 'plus considerable initial comfort'.
In the UK, DS 3 Crossback prices will start at GBP27,785 (manual 130), rising to GBP47,570 for the E-Tense. DS points out that lower fuel costs on the E-Tense compensate for the higher initial purchase price to leave overall lifetime costs comparable with ICE variants.
The DS 3 Crossback joins the flagship DS 7 Crossback in the new generation of models planned for the premium and standalone DS brand. The DS 7 Crossback is available as a plug-in hybrid in the E-Tense version.