LMC Automotive (a GlobalData company) estimates suggest that diesel share of the new car powertrain mix in Western Europe is continuing to head steadily down.
The LMC analysis shows that compared with February, the March Western European diesel car market was a little weaker, coming in at a preliminary 16% share which is the second lowest result since the diesel decline trend set in (December 2022 being the low point so far).
Analyst Al Bedwell points out that the March estimated figure for diesel share is a modest 2.1% year-on-year fall. "This modest share decline versus last year, emphasises the gentle but steady nature of diesel's exit from the region's powertrain mix," he says. "And it should be noted that the volume estimate for diesel car sales is actually up on last year – albeit with the caveats applying to the comparison with last year."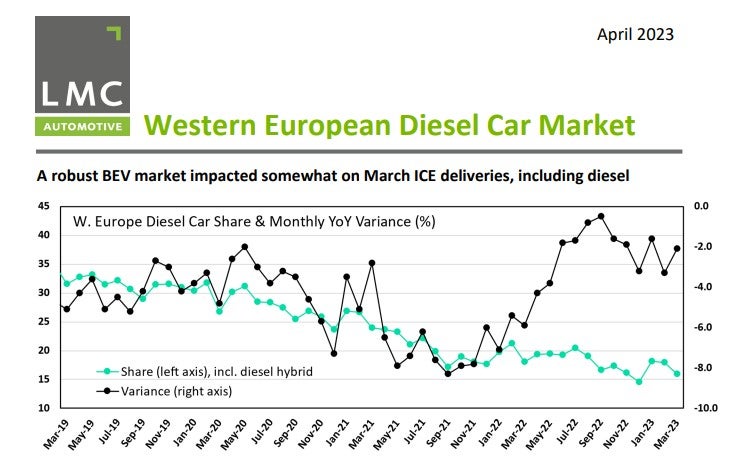 Volume‐wise, March recorded diesel sales in the region of just over 200k which represents a larger diesel car market than seen a year ago (by about 15k units). However, annual comparisons should be treated with some caution given severe supply constraints over the past eighteen months, which are only now easing significantly.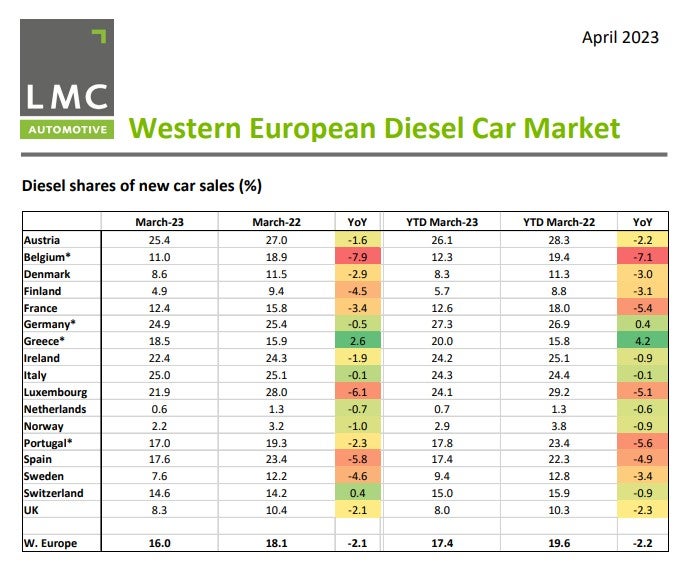 As for fuel costs, diesel prices at the pump across Europe are seeing big variations as the international fuel market stabilises following the disruption from the Russia‐Ukraine war. In general, prices are coming off peaks, but LMC said 'some oddities remain'.
Bedwell points out that at present, for example, diesel fuel is cheaper in the UK than in France. "That has not happened for a very long time," he says. "However, diesel in Spain is a lot cheaper per litre than in the UK, and so much cheaper than it is in France."