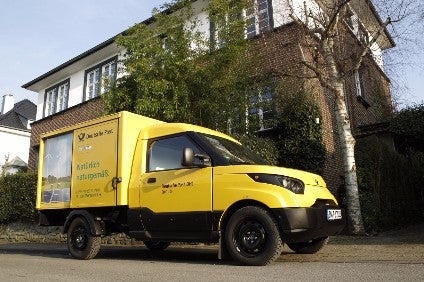 Deutsche Post DHL plans to take on carmakers by stepping up production of its Streetscooter electric van and selling it to external customers.
Streetscooter was originally designed by DHL for for internal use to reduce emissions following the growth of online shopping which has increased demand for parcel deliveries. It is now considering whether to sell it to others and said it would seek another production site and double annual output to 20,000 vans by the end of the year. It plans to sell around half of this year's production to third-party customers.
The group decided to design and make its own van after conventional vehicle makers turned down requests to build the electric vans. Deutsche Post is phasing out use of Volkswagen's Caddy vans in favour of Streetscooters.
It currently has about 2,500 StreetScooter vans in its fleet and plans to at least double that this year, the company said. It expects demand for the van, which will start selling at a price of EUR32,000 (US$34,000) from municipal authorities, strategic partners and large fleet customers.
It will sell the vans itself, and customers will be able to use a network of 400 garages across Germany for repairs and maintenance.
Deutsche Post board member Juergen Gerdes said in a statement. "The large demand for the StreetScooter and our own ambitious climate protection goals have encouraged us to further expand our commitment in the area of electro-mobility and to also make our expertise available to others."