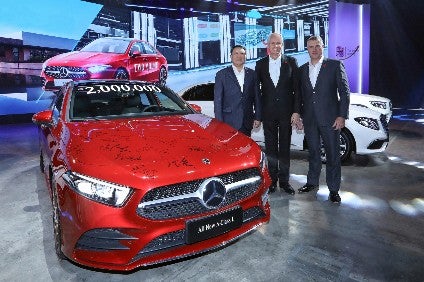 Daimler has started production of a long wheelbase variant of its new A-Class sedan at its Beijing Benz joint venture in China which also produces special China-only stretched versions of other Mercedes-Benz sedans.
Beijing is the fifth source plant for the recently redesigned A-Class line which is also offered as a shorter wheelbase sedan and as a five-door hatchback, a body style more popular in West Europe and many other markets.
Daimler noted its unique 'Made in China, for China' line now consists of five models and that the joint venture plant – which started building US Jeeps three decades ago – recently reached the production milestone of 2,000,000.
"Since our first locally produced Mercedes-Benz rolled off the production line over a decade ago, our business has shown rapid development here in China," said the automaker's Greater China chief Hubertus Troska at a start-of-production ceremony at the factory.
"In 2016, we celebrated the one millionth vehicle locally produced at BBAC. Just two years later, we reached the milestone of two million. This is also a mark of our long-standing, close cooperation with BAIC Group."
The redesigned A-Class line is the fourth generation of the compact line and replaced the predecessor produced since 2012. The L Sedan was specially designed for China and compared with the newly introduced European sedan, the line's first, has a 6cm longer wheelbase (2789mm versus 2729 mm) and is made only at Beijing Benz Automotive, the joint venture between Daimler and BAIC.
Lead A-Class plant is Rastatt in Germany and its is also built at the new factory in Kecskemet, Hungary, assembled under contract by Valmet Automotive in Uusikaupunki, Finland and at the new Nissan joint venture production plant COMPAS (Cooperation Manufacturing Plant Aguascalientes) in Aguascalientes, Mexico which also builds the shorter wheelbase sedan for markets outside China.
"With the ramp-up of the new long wheelbase sedan at BBAC, we are successfully continuing and finishing our unrivalled ramp-up cascade for the new compact cars this year. Within seven months, our production strategy has enabled us to bring three new A-Class models to five plants on three continents," said Mercedes-Benz Cars production and supply chain chief Markus Schaefer.
For the start of production of the A-Class, apprentices at the lead Rastatt plant produced a steering wheel model using additive production processes such as 3D printing. The steering wheel has a screen to which employees can upload messages for the next plant in the ramp-up cascade. The model was passed from plant to plant like a baton.
First Chinese Mercedes compact sedan
The long wheelbase A-Class is the first compact sedan to be built in Beijing and, with the GLA, the second compact-class model produced in China.
"BBAC has undergone extensive development and expansion in recent years, thanks to the great effort of our team. As an integral part of our global network, BBAC is now one of the most advanced production bases which incorporates both intelligent and green manufacturing up to Mercedes-Benz global standards," said BBAC president and CEO Arno Van der Merwe.
"As an excellent example of Sino-German cooperation, BBAC has enjoyed a period of high-quality development. In just 13 years, we have made BBAC into the world's largest production facility for Mercedes-Benz passenger cars, both in terms of land size and production volume. I believe that with the close cooperation between BAIC Group and Daimler, in addition to the combined efforts of its entire staff, BBAC is certain to rise to even greater heights and will be able to write a new chapter for growth in the upcoming era," said BAIC Group chairman Xu Heyi who also chairs subsidiary and Daimler's BBAC JV partner BAIC Motor.
In 2017, the Chinese ministry of industry and information technology recognised BBAC as a 'Green Plant' for its achievements in emission control during manufacturing processes and its results in waste and water resource management.