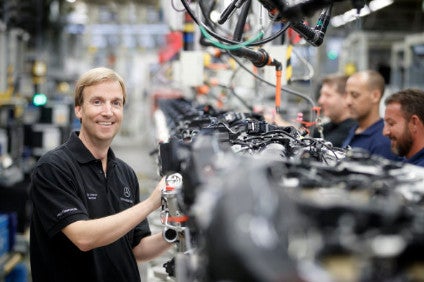 Daimler has signing a property purchase agreement for the site of a new engine plant in Jawor, Poland.
The site will produce engines for newly established Mercedes-Benz Manufacturing Poland MBMP headed by CEO Andreas Schenkel.
Daimler plans to spend EUR500m at the factory located 70km (40 miles) west of Wroclaw. The automaker is well established with powertrain and vehicle assembly plants but this will be its first Mercedes-Benz Cars factory in Poland, building four cylinder engines.
"The capacity expansion in Poland reflects the increasingly international character of our powertrain production compound. This will lead to increased flexibility and efficiency within our worldwide production network," said Daimler in a statement.
Production starts in 2019 after a construction start in 2017.
"Setting up the first plant in Poland and managing engine production locally is going to be a very interesting and exciting challenge. I am particularly looking forward to working alongside my team of Polish and German colleagues," said Schenkel.
He joined the then Daimler-Benz in 1996 as a management trainee and has since held various posts in production including head of rear axle assembly and head of MPS Offices (Mercedes-Benz Production System). Most recently, Schenkel has been in charge of chassis planning for central production planning at Untertürkheim.
The powertrain production compound consists several German and global sites managed from lead plant Untertürkheim where engines, transmissions, axles and related components are produced. The Berlin plant develops and produces components and parts as well as building engines. Hamburg develops and produces axles and axle components, steering columns, exhaust system and lightweight structural parts. The MDC Power engine factory in Kölleda is a fully owned Daimler subsidiary and produces four-cylinder engines.
Engines and other major components are also produced outside of Germany. Subsidiary Star Transmission in Romania assembles transmissions and produces parts and components while the BBAC joint centure in Beijing produces engines for cars assembled in China.
In addition, cooperation between Daimler and the Renault/Nissan Alliance sees Infiniti making I4 petrol engines for Mercedes in Decherd, Tennessee.