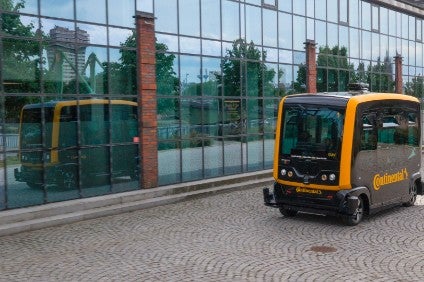 Continental is using its corporate expertise in automation, new mobility concepts, and electrification to develop solutions for future urban transport.
It has built a vehicle to demonstrate driverless mobility, especially in cities. The vehicle, named CUbE (Continental Urban mobility Experience) will start trials soon at Conti's Frankfurt location which contains a typical city infrastructure such as street signs, cross traffic, pedestrian crossings and curbs, providing optimum conditions for a complex and realistic route.
Conti board member Frank Jourdan said: "The future of individual mobility in cities is autonomous and electric, and it will become part of the shared economy. This is why we're developing cross divisional solutions for driverless robo taxis – and we will be starting with practical testing this year. [We have] access to an almost complete product portfolio of [our] own sensors, actuators, control units and communication and networking technology."
Many aspects of the technology used in the vehicle are based on the driver assistance systems and sensors that are already installed in serial production vehicles but new systems are also used, such as a laser sensor. Based on this expertise, these will be developed further to control the vehicle completely autonomously.
Andree Hohm, head of the self-driving car project, said: "The trials will be used to identify all the essential technical requirements that enable safe, driverless passenger transport in urban areas. This helps us to find answers to questions about our product strategy and to deliver leading technology for individual mobility in the future – including driverless systems.
With CUbE, the supplier claims to be among the pioneers in technology for robo taxis.
Jourdan said: "In recent months, the topic has really moved into the limelight. This tells us that we have chosen exactly the right time for our bold approaches to practical testing, enabling us to pave the way towards the future.
"Among the many practical topics we are currently exploring are the adequate design of redundant brake systems and the optimal composition of the sensor platform for a robo taxi."
Hohm is convinced that robo taxis offer a smart solution to meet the challenges of urban mobility for cities that are increasingly choking on the current form of private transport.
It's much more intelligent operating driverless vehicles as often as possible, than having countless private cars that are often at a standstill up to an average of 23 hours a day occupying valuable space – and that's space that could perhaps be used for parks and playgrounds."
In Berlin, for example, approximately 3.5m citizens spend an average of 70 minutes a day in traffic – and this includes all the modes of transport used, including public transport. In everyday city life, the car is simply a little used short-haul vehicle, parked for most of the time. During a trip, an average of 1.3 persons sits in the car. The average daily distance travelled by a Berlin citizen in traffic – distributed over an average of three trips a day – is 20.2km. On call, driverless robo taxis would be an ideal solution for this mobility behaviou, if the result was much less individual traffic in the city.
Continental will demonstrate the CUbE at the Frankfurt IAA motor show in September.