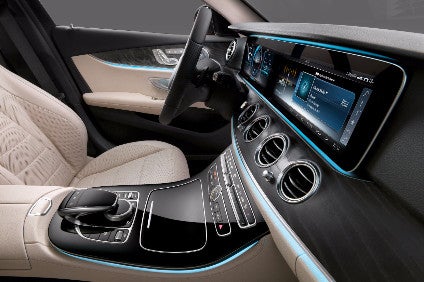 Continental announced it is supplying Daimler with two widescreen, high-resolution displays – that appear to be a single unit – for the 10th generation Mercedes Benz E-Class.
"As a central element of the vehicle interior, the dual display elegantly combines two screens in one module and enables the driver to receive information intuitively," the supplier said in a statement.
"We are constantly working on new, exciting user concepts to ensure that drivers receive relevant information that has been optimally prepared. Screens in particular play a central role for the human-machine interface. With our dual display, which is being used in volume production of the E-Class for the first time, we have created a unique selling proposition in this segment," said Frank Rabe, head of Continental's instrumentation & driver HMI business unit.
Two become one
The dual display is said to make information and other content "intuitively perceptible". This means the implemented display options are easier to understand than conventional alternatives. For example, if required, visual pointer instruments can make space for large-scale, added-value information. The component comprises two large, 12.3-inch (display size 31.2 cm) screens with a high resolution of 1920 x 720 pixels. One display replaces the conventional instrument cluster and its analogue instruments while a central display is mounted above the centre console. The displays offer realistic effects and high-quality graphics which perform cross-fading at high image build up speeds, Continental said.
The supplier added that both modules "become real eye-catching features" due to an integrated cover glass surface thanks to which they appear to merge into one widescreen display without a visually disruptive connection and to 'float' in front of the dashboard. This is enhanced by the option for the driver to choose between three designs to customise how content is displayed on the screen. For example, a driver could hide the rev counter and replace it with other information such as navigation maps. At the same time, safety-relevant information is displayed under all operating conditions. The electronics used to generate the graphics for the instrument cluster display are integrated in the display while the central display is passively controlled by the head unit.
"The display offers drivers a brand-new user experience. New display and customisation options turn human-machine communication into a real experience," added Rabe.
See also: Latest interviews & analysis associated with: Cockpits and instrumentation