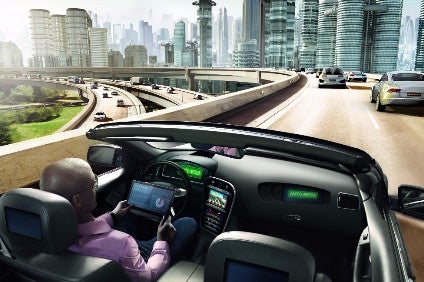 Continental said it had become a development partner and system integrator in the collaboration between BMW Group, Intel and Mobileye for automated driving.
The partners want to establish a new cooperation model for highly and fully automated driving that will provide scalable systems for the entire automotive industry worldwide.
As a system integrator, Continental will help 'industrialisation' of the platform for other automotive manufacturers and to bring the systems to market more quickly.
BMW Group, Intel and Mobileye combined in July 2016 to ensure series production of highly and fully automated BMW vehicles by 2021.
Continental will focus on function development and integration of automated systems including driver monitoring and motion control, as well as simulation and validation of the functions.
Frank Jourdan, head of the supplier's chassis & safety division, said: "We have already had very good experience in working with the BMW Group through jointly successfully completed development and series projects. Contributing development and integration for the partnership is a recognition of our extensive competence in the field of automated driving. The cooperation with the core partners involved represents the unique opportunity to drive ahead and get this technology of the future to our roads more quickly."
"Every new Tier One partner brings us a step closer to our goal: we intend to bring safe autonomous driving to series production by 2021 and actively shape this technology," said Klaus Fröhlich, BMW development chief. "With our non-exclusive approach to this technology of the future we will deliver a safe, fast and cost-efficient solution that is highly attractive also for other manufacturers."
Karl Haupt, Conti's advanced driver assistance systems chief, said: "Such partnerships have a great advantage with regard to the complexity of the technology as well as the development efforts: we do not need to reinvent the solutions developed by any of our partners. After all, we can utilise their knowledge and draw upon already tried and tested examples on the road and adapt these to the most diverse customer needs. Together with the partners involved, we can work more efficiently on research and development tasks in order to realise the next generations of the technologies for automated driving. In addition, this collaboration will provide solutions that are more cost-effective for our customers and affordable to end users."
The range and complexity of the technical systems required for automated driving are enormous, the supplier said. Continental expert6ise extends to surrounding sensors, environment model, driving functions, system architecture, functional safety, control units, brake systems, tyres, complete powertrain systems as well as systems for human-machine-dialogue and system validations.
Advanced driver assistance systems include multi-function cameras, fish-eye cameras with surround view, as well as short range and long range radar sensors, high-resolution 3D LiDAR technologies and central control units for assisted and automated driving.
In 2016, Continental booked sales of advanced driver assistance systems of EUR1.2bn. New orders increased to over EUR3bn and, by 2020, the supplier expects sales of "considerably more than EUR2bn".