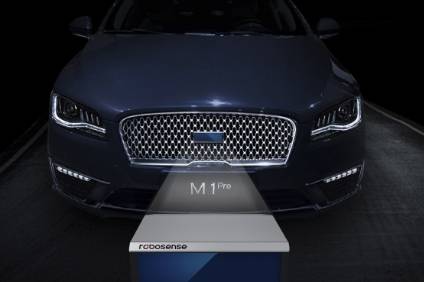 RoboSense, a specialist provider of autonomous driving LiDAR products, has announced the completion of what it says is China's largest-ever single round of financing for a LiDAR company – a combined investment of over US$45m (RMB300m).
It said the strategic funding is provided by 'technology and industry leaders', including Cainiao Smart Logistics Network Ltd (the logistics arm of the Alibaba Group); SAIC Motor Group (Shanghai Automotive Industry Corporation); and BAIC Group (Beijing Automotive Industry Holding Co.).
With a claimed 'over 50% market share of all LiDAR sold in Asia', RoboSense says it is the market leader in the region. From previous financing rounds, RoboSense already has secured backing from auto manufacturing, financial brokerage, and artificial intelligence (AI) companies, including Haitong Securities, Fosun Group, Oriental Fortune Capital, Kinzon Capital, and Guangdong Investment Pte Ltd.
RoboSense says the fhe funding will be used to increase RoboSense's market share and the R&D of autonomous vehicle technologies, including its solid-state LiDAR, AI sensing algorithms, and other advanced technologies, as well as accelerating product development, long-term manufacturing and market penetration.
"The rapid development of autonomous driving has ignited a huge demand for LiDAR," said Mark Qiu, co-founder of RoboSense. "RoboSense is embracing this market demand through partnerships with multiple industry leaders. It is our great pleasure to be endorsed and funded by industry giants from many different fields. This round of funding is not only for capital assistance, but also for strategic resources. We are looking forward to continuously working with our partners to lead the large-scale commercialisation era of the autonomous driving industry."
Autonomous logistics vehicles will be one of the first markets for autonomous vehicle technology, Robosense says.
Cainiao and automotive OEMs, SAIC and BAIC, will jointly promote the rapid development of autonomous vehicles with RoboSense. The strategic partners will not only financially invest in RoboSense, but will also collaborate to lead the autonomous driving industry into production and commercialisation.