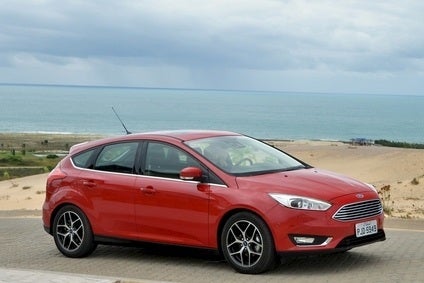 Apart from the usual regional variations to suit buyer preferences and local regulations, Ford has fulfilled its promise of producing and/or selling cars in Brazil identical to those sold in other markets under the One Ford policy begun on former global CEO Alan Mulally's watch.
Hence the arrival of the Argentine-built updated Focus about 20 months after the introduction of its now phased-out predecessor. The hatchback goes on sale here in Brazil early August with the same looks as in other markets, especially the distinctive grille.
The saloon version not sold in much of western Europe (bodystyle called 'sedan' here) will arrive in showrooms at the same time, re-named Focus Fastback. The new nameplate is part of a move to more actively promote this three box body style here in Brazil as it currently accounts only for 10% of Ford's compact-medium sales.
New technology, such as autonomous brake assist and a second generation park assist that automates parking in parallel and longitudinal parking spaces, has been added to the top SE and Titanium versions.
The base model price is unchanged at BRL69,900/US$22,200 for the 1.6-litre engine but it gains the same equipment tally of the previous intermediate version so it's effectively had a price cut.
The top line Titanium with two litre, GDI, flexible-fuel engine with automated, twin clutch, six speed transmission is one of the more sophisticated cars on sale in Brazil and specification includes adaptive bi-xenon headlamps, sunroof, eight inch and multimedia touch screen. Its price is unchanged at BRL95,900/$30,400.
Brazilian car buyers like to have the latest model and, fearing that buyers of the older Focus model, launched in September 2013, might be annoyed at their car being updated in a relatively short time, Ford is offering a 15% discount for those wishing to trade up to a new grille and better equipment.
Ford has also negotiated with insurance companies to secure an average reduction in comprehensive premiums of 3.9% or 3.3%, if the car is fitted with autonomous braking, due to the system reducing accident risk and severity.
The Focus currently leads the compact-medium hatchback segment but a fierce battle is expected from next month once local production of the Golf VII starts. The German rival, currently imported from Mexico, will have a lower sticker price plus a locally made, 1.4-litre turbo, GDI, flexible-fuel engine also made here.