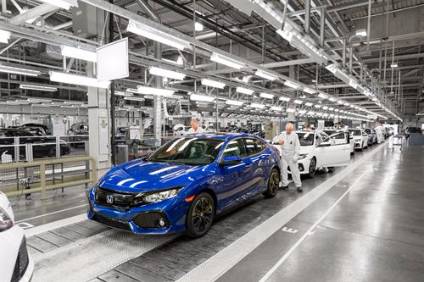 BMW reportedly is considering more car production in the UK and is said to be in talks to take over Honda's Swindon factory once the Japanese automaker ends output there in 2021.
British magazine Autocar said on its website BMW's Mini plant at Oxford was understood to be at capacity of 1,100 cars a day with more assembly contracted out to VDL Nedcar in the Netherlands which built over 200,000 vehicles in 2018.
BMW presses panels at a separate factory in Swindon, England, not far from the Honda plant, and assembles engines at Hams Hall, near Birmingham so it has a well established supply chain already in place. Honda's factory currently stamps panels and assembles engines and has full body, paint and assembly shops.
Autocar previously reported BMW could move some 1 Series model production to the UK because the next generation model will be based on the FWD FAAR platform developed from the UKL1 platform underpins the current Mini, 1 Series, 2 Series, X1 and X2 – accounting for 687,000 BMW Group sales last year. So consolidating production in England would make sense and shorten post-Brexit supply lines.
BMW sources told Autocar only that "some reorganisation" was being considered at Plant Oxford.
The report also cited VDL as saying it expects fewer orders from BMW in 2020.
just-auto editor Dave Leggett commented:
"Restructuring in the UK auto sector could play out in unforeseen ways as trading conditions change due to Brexit. BMW will be looking at its pan-European production structure and the UK is its second biggest European market. Making more cars in the UK is one way to hedge against the possibility of higher costs on UK-EU trade and currency fluctuations.
"Sources in the industry say that BMW could be interested in taking over the Swindon plant – which has annual manufacturing capacity of up to 150,000 units, and with additional investment could be doubled on a second line which is currently mothballed.
"BMW already has a well-developed UK manufacturing network through its Mini plant at Oxford and associated engine and body panel works. Adding a high-demand model – such as the compact X1 SUV or 1 Series, which both share the same platform with Mini – could make good business sense. The Honda plant is also well situated from a logistics perspective.
"This opportunity to add manufacturing capacity at low-cost in the UK could be viewed as very timely in Munich."