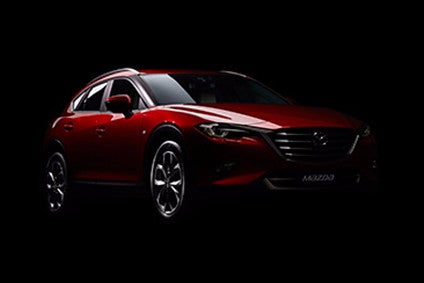 Mazda has unveiled its new CX-4 crossover SUV at the Beijing motor show (Auto China 2016). It goes on sale in China in June.
"The CX-4 was made to exceed existing categories and stereotypes," the automaker said in a statement. "With SUV-like ground clearance and i-ACTIV AWD 2 all-wheel drive, the CX-4 is ready to take on a wide range of road conditions… with excellent handling thanks to its low centre of gravity."
"The CX-4 is our fourth new-generation model in China," said Nobuhide Inamoto, the Mazda executive in charge of operations in China. "Demand for SUVs here is remarkably strong and we expect this model will play a big part in expanding the brand in this market."
Unlike the CX-3 and CX-5 sold worldwide, the CX-4 is launching in China with only petrol engines – two and 2.5-litre with a choice of six-speed manual or automatic transmissions.
The CX-4 was previewed by the Koeru ('succeed' in Japanese), concept revealed at September 2015's Frankfurt show. The prototype was based on the first generation CX-5 but 60mm longer and wider – it could be considered a 'CX-5 Coupe'.
This new crossover will be made in northeast China by the FAW Mazda joint venture, taking the place of an aged Mazda 6 sedan model, sales of which have been plunging. Japan build is also expected. Exports to North America are yet to be confirmed but seem likely.