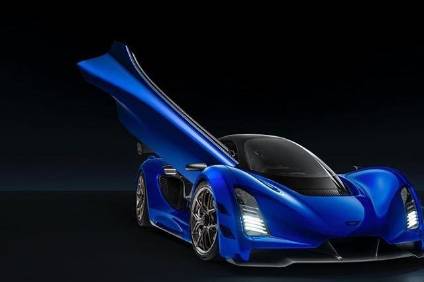 Synthetic 'suede' materials producer Alcantara says it has partnered with start-up Czinger Vehicles to create 'highly customisable interior options for its all-new 21C, including but not limited to the 21C's seats, door panels, steering wheel and instrument panel'.
Originally scheduled to be shown for the first time earlier last week at the Geneva International Motor Show, the 21C now will be unveiled on March 10 (ie today) in London and streamed on Czinger's social media channels and online at www.czinger.com/livestream.
Designers at Alcantara worked with Czinger's development team to create a range of applications for Alcantara's lightweight and sustainable materials (100% carbon neutral, it says) to customise the hypercar's interior.
Limited to just 80 exclusive vehicles, all hand made in Los Angeles, California, the 21C offers a variety of options and opportunities for extreme customisation for each customer.
Czinger will showcase what is possible with two specifications of the 21C at its London event: a road-based 21C with a light beige, ecru-colored Alcantara, and a lightweight track-focused variant with a rear-seat delete and a bespoke 3D embossed black Alcantara material. The road car's seating features hand-woven centre sections, enriched by piping lines with black Alcantara seat bolsters.
The interior of the 21C track vehicle is equipped almost entirely in black Alcantara. The driver's seat features embossed 3D Alcantara in a hexagonal pattern, which was achieved with a proprietary Alcantara embossing process that uses a special combination of heat and pressure.
Alcantara material also is applied for the 21C's seating and is used on the vehicle's steering wheel, instrument panel, door panels and flooring.
The 21C's hybrid powertrain drives all four wheels and produces 1,250 horsepower with a red line of 11,000 rpm and a top speed of 432 kph (280 mph).
Equipped with a twin-turbo 2.88-liter V8 located mid-vehicle, it relies on two continuous front traction motors and a crank-driven generator and starter to ensure that its lithium-titanate batteries are available when needed.