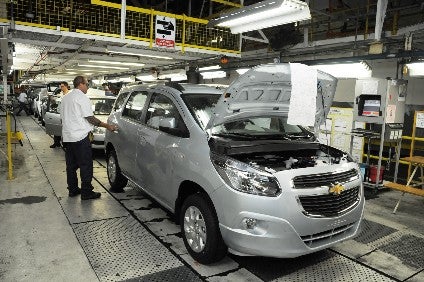 Sales of cars and light commercials in Brazil in 2018 topped 2.56m units, up 14.6% from the 2.24m units sold in 2017.
The increase was larger than the three predictions made by manufacturers' association Anfavea during the year.
The latest revision last October suggested sales would rise 13.7% and that turned out almost 1% lower than the final result.
December sales reached 234,500, up from November's 230,900 units.
It was clear 2018 consolidated the recovery begun in 2017. The home market was strong, showing previously restrained demand was beginning to be met.
Higher sales of trucks and agricultural machinery signalled recovery of the Brazilian economy.
Production also increased despite fewer exports.
Last year, 2.8m units were produced, up 6.7% from 2.69m in 2017.
However, December output of 177,700 units was off 27.4% versus November's 244,800 and down 16.8% year on year.
Full year exports fell to 629,200, down 17.9% on 2017's 766,000. In December, 31,700 vehicles crossed the border, 7.9% less than November's 34,400 and a significant 48.1% short of December 2017's 61,100.
The export downturn reflected the 20%-plus slump in Argentina which alone accounts for 70% of Brazilian auto industry export sales.
Predictions for 2019
Anfavea forecasts 11.4% more registrations in 2019, or 2.86m units.
The national federation Fenabrave, representing 4,500 dealers, has forecast 11% growth year on year.
Production is tipped to reach 3.14m units, up 9%.
As for exports, 590,000 – down 6.2% – is the forecast with the value of the year's shipments seen down 3.9% to US$13.9bn.
The new year's macroeconomics signal positive factors such as a GDP increase, low and steady inflation, and a cheaper dollar, besides more credit availability due to fewer defaults.
There is also a general optimism linked to the economic reforms promised by the new federal government which is likely to be reflected by both consumer and investor confidence provided congress approves the reforms.