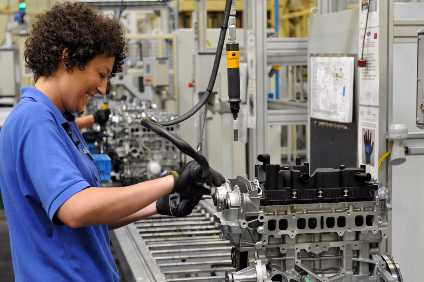 The UK's thriving automotive engine production sector will have to adapt in the long-term as electrification gathers pace and conventional internal combustion engines (ICE) are banned altogether on new vehicles sold in Britain by 2040.
UK government plans to phase out diesels and conventional ICEs by 2040 will focus vehicle manufacturers' and suppliers' minds on developing new technologies and, in particular, electric powertrains.
The UK produces around 2.5m engines a year and for Ford, its Dagenham plant near London is a centre of excellence for diesels.
Mike Hawes, chief executive of The Society of Motor Manufacturers and Traders (SMMT), said: "We are already building electric vehicles and hybrids in the UK but engines are an issue – powertrains are the big ticket expense."
He said the industry was aware that it was the ambition of the government to aim for 2040 to reduce the reliance on internal combustion a engines but added: "With a ban you are betting on the technology being in place and that the consumer wants it."
Plans to stop all sales of petrol and Diesel cars by 2040 is part of the government's intention for almost every car and van on UK roads to be zero emission by 2050. It will also make GBP40m (US$52m) available immediately to start local schemes rolling, which could include changing road layouts, retrofitting public transport or schemes to encourage people to leave their cars at home.
Funding will come from changes to tax on Diesel vehicles and reprioritising departmental budgets. Exact details will be announced later in the year. If those measures do not cut emissions enough, charging zones for the most polluting vehicles may be the next step.
Earlier this month, French president Emmanuel Macron announced similar plans also from 2040. Earlier this year, London Mayor Sadiq Khan announced the introduction of a new GBP10 (US$13) 'toxicity charge' to be introduced from October after the capital was put on very high pollution alert for the first time ever. The T-charge is to be levied to drive within central London on top of the GBP11.50 (US$15) congestion charge.
Khan also announced plans to expand the ultra low emission zone (ULEZ) in 2019 beyond central London, one year ahead of schedule, levying a GBP12 (US$15.60) charge a day for polluting vehicles.
SMMT chief Hawes said: "Last year 10,000 electric vehicles were sold in the UK versus a total market of 2.7m. Currently there are only around 12,000 public charging points and the industry needs a number of things to come into play before it can change direction in terms of powerplants. A lot of people need to buy into a whole new infrastructure including the government, energy suppliers and the automotive industry. Moving to electric will place a huge strain on the grid.
"That said, what will be conventional in 23 years' time? Volvo and other manufacturers are already moving towards hybrids. As well as electric, there is also fuel cell to consider as a viable alternative."
He added that by 2040, the automotive industry will be facing myriad changes in terms of digitisation, regulation and even ownership models. "Diesel still has a future and can deliver emissions requirements. It still has an advantage over petrol on CO2. Diesels will certainly be with us until 2040 and maybe even longer with hybrid technology."
Hawes said he did not expect the UK government to introduce scrappage incentives similar to those introduced in 2009 to boost the new car market following the financial crisis.
He said: "Back then we were staring into the abyss. Something had to be done to stimulate sales, keep plants open and maintain jobs. This is a different situation."