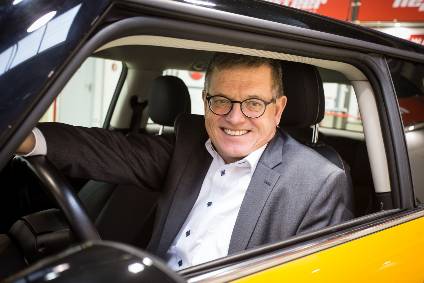 Nexteer Automotive is a global manufacturer of steering and driveline systems. Earlier this year, it produced its 60-millionth electric power steering (EPS) system. Continuing just-auto/QUBE's series of interviews with tier one component suppliers, we spoke to Rudiger Hiemenz, Executive Director Engineering – EMEA and South America Division, Nexteer about the ways in which the supplier is pushing back the technical boundaries of a range of steering technologies.
In terms of the autonomous vehicle, in what ways will it impact the steering system?
First of all, functional and operational safety becomes the dominant design driver and redundancy of the design principle. In details: dual motor position and torque sensors, dual power and bus connectors, dual invertors, dual-wound motors and dual processors in combination with Cyber Security. Secondly, unprecedented new features will create a completely new driving experience. For example, the steering wheel can stand still while in autonomous mode or disappear completely in the dashboard.
AFS is said to make steering more comfortable and safer. Yet do you think that such steering technology and associated systems will become a necessity rather than a luxury?
Function wise Active Front Steer is an appetiser before Steer-by-Wire. Without offering the package freedom and passive safety benefit of Steer-by-Wire, it already provides some functions like speed-dependent steering ratio and stabilising control of the steering angle of the wheels. Being a luxury option today, we anticipate it to vanish from the catalogues to be replaced by Steer-by-Wire.
EPS has evolved through a number of technology generations. What could OEMs expect from the next generation? And will motorists notice the difference?
As a rule of the industry, the next generation of EPS systems will be more compact and will provide higher output. The OEMs gain higher package freedom in the crowded areas of underhood compartment and instrument panel. The motorist will recognise the next generation of EPS for the higher degree of refinement with respect to noise and steering feel and safety and comfort features like Lane Keeping and Automatic Parking. Others advanced features like Cyber Security show effectiveness even if they are not noticed by the driver at all.
I guess EPS systems are pushing hydraulic steering-assist systems off the road. How do you see the hydraulic steering sector evolving over the next few years?
It is true that EPS systems have become mainstream in many markets for all vehicle segments up to semi-trucks. The numbers speak for themselves. Until 2025 the EPS market will grow by 4 per cent per year while HPS goes down by 12 per cent per year. Nevertheless, Hydraulic Power Steering has undergone a steep innovation curve. Today, a modern HPS system brings the same ADAS safety, control and comfort functions in ¾ ton trucks and commercial vehicles otherwise known from passenger cars. All of this with the premium steering feel and massively reduced fuel consumption.
If EHPS systems are a bridging technology, how long do you define that transition period?
Short, to be honest. EHPS is no more in transition, it has already been absorbed by EPS in Europe where the EHPS volume was. The remaining marginal volumes are in light commercial vehicles that will be converted to EPS in the next generation.
To what extent is Nexteer benefiting from the conversion to EPS from hydraulic power steering (HPS) in China due to legislation governing fuel economy and exhaust emissions?
The raise of EPS in China is driven by fuel economy legislation, electrification and a rare combination of curiosity of the motorists for ADAS and comfort features. This relates to the eagerness of OEMs to provide those.
We hear that Nexteer is making inroads to the Chinese steering market, supported by its joint venture with Dongfeng Motor Parts and Components (Group) Co Ltd. What access does this venture offer?
As a principle, Nexteer follows the manufacturing footprint of our customers. We are used to global vehicle programmes that span over multiple brands and multiple production sites across the world. With our joint venture partner, we produce steering systems for Chinese derivatives of platforms that are also built in Europe and South America.
What is the appetite for EPS in some newer markets such as India?
The Indian market is dominated by EPS and still growing with a rate of 6 per cent year-over-year.
India has become the homestead of column-mounted EPS, normally with a brushed motor. Already today, the market is dominated by EPS and still growing with a rate of 6 per cent year-over-year.
We believe that dual-pinion EPS systems are used for upper-midsize cars and small SUVs. Do you see any strategic shifts in terms of greater or less use of single or dual pinion steering systems?
Single pinion and dual pinion steering systems share large portions of the component set. Together they cover the B, C, D and SUV vehicle segment. This makes Pinion EPS an ideal candidate for vehicle platforms that span a large range of weight. Two industry trends help Pinion EPS: one, the trend to utilise one platform for several vehicle segments and categories like passenger car and SUV.
Second, the trend to hybrid and electrical powertrains that push the weight of the platform up. Utilising Pinion EPS the OEM can cover the whole platform with one architecture: Single Pinion EPS for the low range of the platform, Dual Pinion for the mid-range and High Output Dual Pinion for the heaviest variants.
We believe that Nexteer is said to be evaluating its steer-by-wire system with unnamed OEMs as it moves to a production date for the technology by 2022/23. Could you give us an update on that?
The introduction of Steer-by-Wire is currently held back by legislation that still requires a mechanical connection between driver and wheels. For the reason introduction of Steer-by-Wire is now seen later.