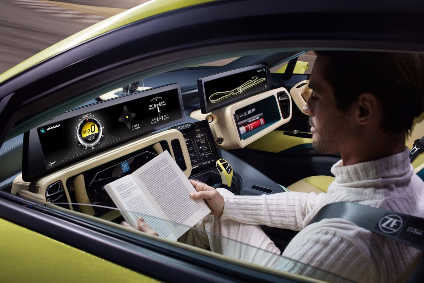 Connectivity is currently a key area of development for OEMs and will remain so over the coming years. Craig Thomas recently caught up with Phil Eyler, president of Harman's Connected Car Division, to talk about the company's future strategy.
Harman is one company at the forefront of connected car technology, its $3bn Connected Car Division focusing on the development of integrated systems that incorporate embedded infotainment, telematics, connected safety and cyber security solutions.
The company showcased its Harman LIVS (Life-Enhancing Intelligent Vehicle Solution) platform at the recent Consumer Electronics Show in Las Vegas, in the Rinspeed Etos concept car.
We spoke to Phil Eyler, president of Harman's Connected Car Division, about the LIVS platform, the challenges in developing connectivity technology and the company's future strategy.
just-auto: What does the Harman LIVS platform in the Rinspeed Etos aim to show?
Phil Eyler: The whole point of that is to show what what's possible today from our perspective when you combine cloud and the embedded platform. One example of this platform approach has allowed us to bring in some partnerships that weren't possible before we had that ecosystem. For example, Microsoft: we've brought the Microsoft productivity suite, the Microsoft 365 and personal digital assistant to the car.
What this does is offer really seamless access to schedule management, Skype calls, conference calls and in a really pro-active way. The conference call thing has a huge use case: you don't have to fumble with the phone or look for the pass codes, so it solves some of the problems that the business professional has.
Is it a tough sell to your OEM customers?
No, because that's what they want. Every OEM has a different road map and strategy of how they're going to pull it all together, but this is a huge need and, because of our partnerships, we're doing this with the OEMs' needs in mind.
We're great partners with a lot of the luxury OEMs and when we're thinking about connected cars, truly connected cars, mostly we think the consumer base is the business professional right now. Of course that's going to expand over a period so this is a big opportunity.
The other thing we are heavily focused on is cyber security. When you have all cars connected – which is where we're going – the potential risks are going to be there. And whether that's at the individual car level, multiple cars, or fleets of cars, there's some real risk. So we've invested heavily in developing an embedded software-based cyber security platform that also handles dealing with what's coming in from the network level. We've just announced the acquisition of an Israeli-based company called TowerSec, which has industry-leading technology in terms of monitoring what's happening within the car's network.
Every car has this CAN bus network where data is being passed and shared. Everything really is talking to everything else in the car. That's a big danger point, so the TowerSec technology can monitor the network and pick up anomalies that are associated with threats or hackers, viruses etc and alert the driver or the OEM – or it could actually stop and kill some of these threats."
So how straightforward will it be to integrate connectivity and autonomous car technology?
Well it's very complex, but it's absolutely something we're in a great position to do. If you look at a car today – the complex cars, the luxury cars, even the mid-level, high-volume cars – the most complex computer is an infotainment system.
We're the market leader, so it's very for us very natural to think about developing much more than an infotainment system – a compute platform where we can put more and more functionality into it and help manage what's happening as connectivity grows. We see ourselves as a pioneer in developing solutions that will help move the industry forward.
We have also made advances in navigation that, when pulled together with vision-based ADAS can really become powerful.
Connected cars use huge amounts of data, so how does Harman deal with that issue?
Well, this is why we acquired of Symphony Teleca last year, so data analytics is now a big part of our capability with our cloud services.
There's a lot of different questions that come up with that issue. Who owns the data? How do you manage the data? How do you manage the utilisation of network bandwidth, etc.? Those are all areas now that we have some good technologies that we can offer to OEMs to help manage that data.
Are OEMs fully aware of all the data-related implications that will result from an uptake in connectivity?
I think everybody is spending a lot of resources to make sure they are doing their best to try to do that. But it's moving so fast. Some OEMs are really on top of it: some are behind. One thing behind our approach is that we're developing an end-to-end solution that's very comprehensive, but that's not the only business model for us: we could take pieces of that and vary our offering for OEMs, based on their needs. Some of them already have a strategy that's in place and we're just going to plug a hole. For others, it may be we have no idea what we need to do: we want to take that whole solution and implement it. And, of course, our solution is going to evolve over time.
How is Harman going to reconcile the difference in technological development times that you have with the development times of carmakers?
That's a great question. The area we've really focused on is making sure that the system is dynamic and that's possible because of the over-the-air update. That's exactly why we acquired Red Bend, to answer that question and to make sure the solutions we provide today can be improved tomorrow in a very short period of time. Even in the development cycle it's very important so I think that's the future.
We're all used to our phone updating on the fly and the same thing would happen in the car: it's the same concept. Obviously it's more complex and it takes an automotive-type focus to make sure it's done in a safe, seamless way but conceptually that's the over-the-air update.
You've mentioned some of the acquisitions you've made recently, covering over-the-air updates and security, so are there any more holes that Harman needs to plug in the services it offers to OEMs?
The ecosystem now becomes broader and we continue to look at cyber security – although we're very happy with our offering now. More connected safety becomes more a part of our offering, we're developing this concept of, for example, augmented reality navigation, which takes a video feed from the road ahead and overlays navigation right on top of the video feed so it's augmented.
We've augmented directions in front of you and prompts; you can take snap-ups of what the building names are that you're coming up on – things like that. Advancing that technology is very important. We've made acquisitions in that space already, with a company by the name of iOnRoad, which we invested in the couple years ago. So those are the types of enhancement areas we will focus on, but they'll be very targeted. Symphony Teleca was a big acquisition, so we want to focus on making sure that the development of that new division is done well.
So, after going the long way round, the answer to your question is yes.