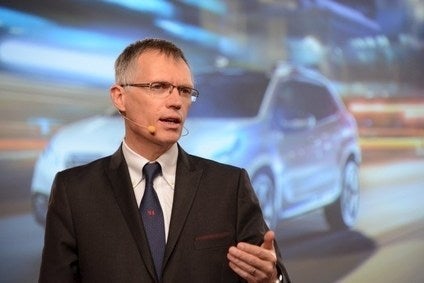 PSA Peugeot Citroen chief executive has a considerable challenge on his hands to forge a successful place in the global market for the company and its three brands – Peugeot, Citroen and DS. He tells Ray Hutton how 'Back in the Race' is bringing results.
Back in the Race, his title for the revival plan of PSA Peugeot Citroen, tells a lot about Carlos Tavares. The 57 years old French-educated Portuguese chief executive is hugely ambitious, for himself and the company, and in his spare weekends takes to the track with his formidable GP2 single-seater. He wins races and, judging by PSA's half-year results, is driving the company further up the manufacturers' league – and to his target of sustainable profitability from 2016.
Last year, Tavares did something previously unthinkable – he left Renault to join Peugeot. Senior managers simply didn't move between the rival French manufacturers; Renault, once nationalized and still 15 per cent state-owned, and fiercely independent, family-run Peugeot.
But times and circumstances have changed. Peugeot was in trouble and a mystifying deal with General Motors in 2012, which provided cash in exchange for Peugeot shares, wasn't the answer to its problems. Meanwhile, at Renault and its alliance partner Nissan, two of Carlos Ghosn's closest lieutenants – Carlos Tavares and Andy Palmer – were straining at the leash for a chief executive position. Tavares said as much and was fired; Palmer went quietly and surprised everyone by becoming the boss of boutique car maker Aston Martin.
We don't know if the Peugeot job was in prospect when Tavares said he wanted to be a candidate for chief executive at General Motors but the timing was fortuitous. Peugeot had accumulated losses of more than EUR7bn in two years and needed a drastic overhaul. The restructuring saw the family lose control, having its shareholding reduced to 14%, with equal stakes going to Dongfeng, one of its Chinese partners, and the French government (giving it a similar status to Renault). Philippe Varin, the family nominee who had been Peugeot chief executive since 2009, stood down and Tavares was ready and available to take his place.
His first task after his appointment early in 2014 was to draw up the Back in the Race turnaround plan. It calls for a 2% operating margin by 2016 and EUR2bn operating free cash flow from 2016-2018, modernisation of plants, a rationalisation of the model range, and reduction of costs and inventory.
By cutting costs (and staff), improving productivity, and increasing revenue per car, the Peugeot Group's break-even point dropped by half a million vehicles in Tavares' first year.
The results for the first half of 2015 – an operating profit of EUR1.4bn on a revenue of EUR28.9bn – show that Peugeot is already well ahead of plan. But Tavares is far from complacent: "The first-half results are very positive but we must recognise that we had some tailwinds – a low oil price reduced the cost of raw materials; the currency framework was very favourable, especially in emerging markets; and we were surprised by the rebound of the European car market. In the second half, we can only expect currencies to go south and we have a slowdown in Chinese growth. So we need to stay focussed in the implementation of the plan, in case tailwinds become headwinds. Let's evaluate the situation at the end of the full year."
Since Peugeot fell into loss because it was too dependent on the European market, there is irony in Europe now being Peugeot's most profitable region but to Tavares it just proves that you need to be global to level the ups and downs in different regions. And to maintain a high performance in terms of products and profitability. He explains: "If you have two legs you need to have muscles in both and if you can have more than two legs, so much the better." Might North America form another leg? "That's a question we have to address for the next plan."
The slowdown in China is less of a worry than it might be because of Dongfeng's investment in Peugeot. Dongfeng has 50:50 joint ventures with several manufacturers, including Renault (which Tavares negotiated) but it is part of Peugeot and benefits from its improved performance in other territories; because the share price has gone up, the value of its 14% investment has doubled in less than two years.
There is a technical element to the Dongfeng deal, a modular car platform engineered by Peugeot, which will also be used for Dongfeng products for the Chinese domestic market. Under previous administrations, Peugeot was a prolific deal maker and several of those associations (with Toyota, Fiat and Ford) continue. Somewhat surprisingly, the nascent joint venture with General Motors also continues, although GM has sold its shareholding; this will produce forthcoming B- and C-sector crossovers and a small commercial vehicles. Tavares says that these projects are developing well and is open-minded about extending the GM arrangement in future.
As you might expect from a man who started his career as a Renault test driver and has been in charge of product development at Nissan and marketing in the USA, Tavares is particularly keen on product.
He accepts that, currently, the Peugeot Group is short of cars for the hottest part of the global market – SUVs and crossovers – but says that "the answers are in the pipe and will come soon". He is concentrating on reducing the number of models across its three ranges from the current 45 but making the 26 survivors truly global cars. Cutting out unprofitable niche models was a tactic Tavares employed as chief operating officer at Renault.
While it makes sense to rationalise the mainstream models, surely cutting the choice of variants is against the trend of the successful premium brands? Peugeot seeks to join that group with its DS range, which has moved quickly from being a Citroen sub-brand to one in its own right. Tavares says that we should consider it as a stand-alone brand, separate from Citroen and Peugeot. DS will actually increase its range because cars now only available in China will be global in the next generation.
DS is already profitable and is not chasing volume, concentrating instead on maintaining high residuals. Tavares knows that this is a long game; he was in America when Nissan's Infiniti celebrated its 20th birthday, making 130,000 cars a year. DS already sells 120,000 but its transaction prices are still 10-12% lower than Audi, which is Tavares' premium benchmark.
Establishing DS as the Group's premium brand does not prevent either Peugeot or Citroen producing up-market models but the brand chiefs will have to convince Tavares that they can achieve premium prices without incentives and thus protect residual values.
The two established generalist brands will, over time, adopt more separate identities than they have today. Citroen is seen as having the widest possibility for innovation – the successful C4 Cactus is the start of a new way to look at family cars – while Peugeot will continue to be more conservative, a direct rival for Volkswagen. Tavares takes pride in pointing out that, on an average of seven European markets, Peugeot is now only 2-3% behind VW in transaction prices where, two years ago, VW had a 6% advantage. "The confidence level has been raised and since its market share has remained steady, the brand's profitability is much improved."
He says that the perception, especially in Germany, that Peugeot Group cars do not have the quality and technical standards of the German brands is no longer accurate and that French cars today have advantages in style and innovation. But Tavares accepts that the Group's massively wide variation in penetration in European markets – 30% market share in France, 16% in Spain, 7.5% in UK, 3.5% in Germany – shows that there is still a big job to do persuading buyers of the soundness of its products.
For now, Tavares is keeping up the pressure – and getting results. He sums up his philosophy: "Nobody has a monopoly on vigour and discipline and doing things right. We are trying to become a highly professional company that is extremely demanding on itself and everything it does. You could call it a Latin mindset with German vigour."
That's the way, he believes, to get Back in the Race.