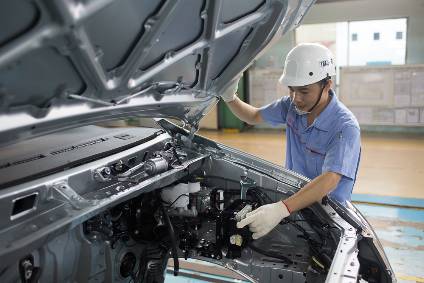 Vietnam has cut import tariffs to zero on completely built-up (CBU) vehicles originating from southeast Asia at the beginning of the year – the third cut in as many years as the country moved to fulfil its commitments under the ASEAN Free Trade Agreement (AFTA).
This was the last round in a prolonged programme of reciprocal tariff cuts that has culminated in all but the most sensitive customs items from neighbouring countries now incurring zero import tariffs.
Previous CBU vehicle import tax cuts, to 50% in 2015, 40% in 2016 and 30% in 2017, have helped lift the local vehicle market by lowering prices of imports and putting pressure on local producers to become more competitive.
Combined with low interest rates and strong economic growth in recent years, affordability has improved significantly in what for many years was one of the world's most expensive automotive markets.
Vehicle sales in the country have increased exponentially since the market fell to a cyclical low of around 82,000 units in 2012 – when the central bank was forced to hike interest rates aggressively amid spiralling inflation and a tumbling local currency.
The market hit a record high of 272,000 units in 2016, according to member data supplied by the Vietnam Automobile Manufacturers' Association (VAMA), while other sources suggest total vehicle sales exceeded 304,000 units that year.
VAMA's data also shows the market declining by 8% to 251,000 units in 2017, in part due to consumers holding back on purchases on the expectation of further tariffs cuts. Of these sales, around 94,000 were CBU imports, down from 113,500 units in 2016.
Local vehicle manufacturers have worked hard to fend off the competitive threat from larger and more integrated vehicle producers in the region, with a little help from the government. Vietnam's limited components industry and its lower economies of scale mean that without significant government protection its vehicle industry is fighting a losing battle with manufacturers in Thailand and Indonesia.
Some analysts calculate that vehicle production costs are on average 20% higher in Vietnam than in the larger ASEAN markets.
Some analysts calculate that vehicle production costs are on average 20% higher in Vietnam than in the larger ASEAN markets.
Nevertheless, Vietnamese consumers last year were looking forward to some hefty car discounts come January as a result of this latest round of import tariff cuts. Many had signed up to savings of as much as US$2,000 on compact models such as the Thai-made Toyota Vios and in the region of US$1,500 on smaller models. This roughly equates to 10-15% off last year's prices, on top of smaller price cuts in previous years.
New regulatory regime upsets importers
In a surprise development towards the end of last year, the Vietnamese government announced a new regulation – perhaps in a last-ditch attempt to provide some form of protection for the country's fledgling automotive industry.
Clause 116/2017/ND-CP on vehicle manufacturing/assembly, importation, maintenance and warranty businesses, went into effect at the beginning of 2018 – which stipulates that all imported vehicles are required to have Vehicle Type Approval (VTA) certification issued by an authorised agency in the country of origin.
New emissions and safety standards have also been established, as well as minimum manufacturer warranties terms and the obligation to provide aftersales services.
The new regulation could mean the end of the road for grey-market importers in the country, which mostly source vehicles from intermediate countries and companies and will likely struggle to supply all the necessary vehicle documentation and other provisions.
All market participants have been affected by the new regulations, however, including authorised importers and distributors who still seem to be working out how to respond to these unexpected developments.
Many authorised dealers in the country are reported to have stopped taking orders from buyers of imported vehicles due to the regulatory uncertainty, while others have tried to renegotiate sales contracts or have cancelled orders unilaterally.
Imports ground to a halt at the end of last year, with imports from Indonesia falling to zero in January while just a small fraction of the normal volume was brought in from Thailand –which was by far the largest vehicle exporter to Vietnam last year.
The VAMA data shows a sharp rebound in vehicle wholesales in January, of over 29% to 25,381 units – albeit from weak year earlier levels. It will be interesting to see if this trend is sustained in February, with far less imported stock entering the market.
Affected countries such as Thailand and Indonesia, and even Japan, have urged Vietnam to withdraw or revise the new regulation.
Furthermore, Indonesia is preparing to send a trade delegation to Vietnam at the end of this month in an attempt to protect its CBU trade with its neighbour, which it says was worth some US$85m last year after it began exporting built-up Toyota Fortuner SUVs in the previous year.
The ASEAN isn't exactly the best global example of a successful free trade area as far as the automotive industry goes, with domestic production still dominating national markets and national interests always taking priority. It will be interesting to see in the next month or so how this situation is resolved.